If you're like me, you've probably wondered what those mouth-watering dishes in your favorite movies and TV shows taste like. Well, wonder no more! Whether it's Remy's ratatouille or a creation whipped up by Bradley Cooper in the kitchen, we've got you covered with authentic recipes or delicious variations that are sure to satisfy your cravings. Check out our top 10 recipes from movies and see for yourself if these on-screen delights are as good in real life.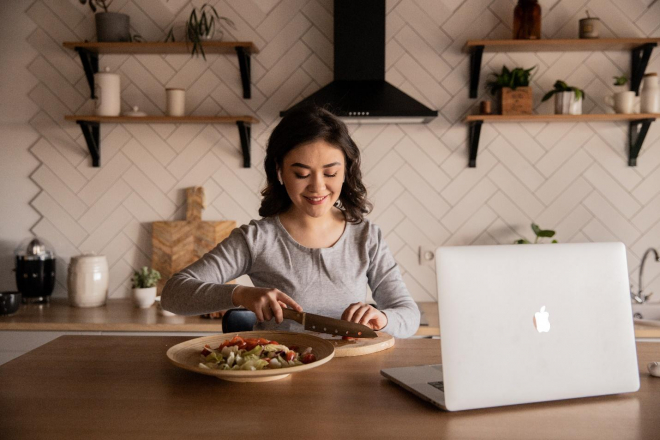 Famous recipes from the best movies about food
#1 Ratatouille from Disney's 'Ratatouille'
If you're a fan of the movie 'Ratatouille', you know the unforgettable moment when the food critic tries Remy's delicious creation. And now, you can experience the same mouth-watering taste for yourself! Treat yourself and your loved ones to a savory culinary adventure inspired by the beloved film.
You know exactly which cartoon movie is related to cooking. However, did you know that browsing 'Ratatouille' can be dangerous as hackers are constantly looking to steal your data? Using a VPN on Netflix, you can protect yourself from eavesdropping, phishing, and many other attacks. Another advantage that makes using Netflix with VPN is the ability to unlock the entire library of the service. Only with Netflix VPN can you see what is blocked in your region. Just install VeePN and forget about restrictions. Watch any movies and series in high definition and without buffering.
#2 Boeuf a la Bourguignon from 'Julie & Julia'
Get ready to taste the classic flavors of Julia Child's beef stew with a modern twist! Our easy-to-follow recipe for pressure cooker beef bourguignon incorporates tender, melt-in-your-mouth beef chunks, and red wine, resulting in a fast and flavorful meal.
#3 Chocolate truffles from 'Chocolat'
If you're looking for a tasty movie snack, these truffles inspired by a romantic drama are a must-try. Whip them up for your next movie night, or any time you want a sweet treat!
#4 Spaghetti all'Amatriciana Recipe from 'Eat, Pray, Love'
Indulge in the simplicity of Pasta all'Amatriciana made with fresh, flavorful ingredients. Originating from the town of Amatrice, located near the Abruzzo and Umbria border, this recipe includes onions, tomatoes, pancetta, olive oil, and a spicy kick from chili peppers. Follow the recipe from Owi Owi Fouette-Moi for authentic taste, or check out another version from Pressure Luck Cooking if French is not your language. For those who appreciate culinary experiences inspired by cinema, don't miss a chance to embark on a tour highlighted in the movie 'Eat, Pray, Love'.
#5 Homemade pop tarts from 'Gilmore Girls'
Looking for a sweet breakfast treat to satisfy your cravings? Lorelai and Rory are big fans of desserts, even at breakfast time. Lorelai loves to indulge in pop tarts as a morning snack, which is why we know you'll love this homemade strawberry pop tart recipe that we're sure she would approve of.
#6 Spaghetti and Meatballs from 'Lady and the Tramp'
Ready for a delicious Italian dinner that everyone can enjoy? Try our Instant Pot spaghetti and meatballs dish! We've made it gluten-free and egg-free by substituting bread and egg with quinoa. This dish is perfect for two people in love to share over a romantic dinner.
#7 Beignets from 'The Princess and the Frog'
Discover the mouth-watering New Orleans cuisine of Princess Tiana with her signature dish, the beignets. While we may not have access to the famous fictional chef's recipe, we can still try our hand at making these delectable treats ourselves.
#8 Instant Pot Oyster Stew from 'Lincoln'
Did you know that oysters are exceptional nutrient filters? They accumulate high amounts of vitamin B12, zinc, copper, and omega-3 fats by filtering nutrients in phytoplankton into their meat. In fact, oysters offer three times more omega-3 fatty acids per ounce than wild salmon! Check out this recipe from Healing Gourmet to explore the delicious and nutritious world of oysters.
#9 Apple pie from 'When Harry Met Sally'
Sally's apple pie order may come off as demanding to some, but we see a woman who knows what she wants. And who can blame her? Apple pie is absolutely delicious. We'll have what she's having!
#10 The Blue Soup from 'Bridget Jones' Diary'
Experience the mouth-watering goodness of potato leek soup made from scratch, with minimal effort using your Instant Pot. Elevate this already delicious dish with the addition of kale and flavorful cheddar cheese. Bid farewell to canned soup and delight in a vegetarian-friendly and gluten-free option. And, for a little extra fun, skip the blue string as Bridget Jones did!
Conclusion
Indulge in a mouthwatering collection of recipes inspired by your all-time favorite movies and TV shows. From romantic eats for two to quick bites while binge-watching, these recipes guarantee to fulfill your taste buds' cravings. Get set for a drool-worthy experience!