Aloo Gobi is a popular and comforting Indian dish that brings together the earthy flavors of potatoes (aloo) and cauliflower (gobi), infused with aromatic spices. This vegetarian delight is loved for its simplicity and deliciousness. In this article, we'll guide you through the steps to create a flavorful Aloo Gobi dish that will transport your taste buds to the vibrant streets of India. Get ready to savor the combination of tender potatoes, perfectly cooked cauliflower, and a harmonious blend of spices that make this dish a true culinary gem!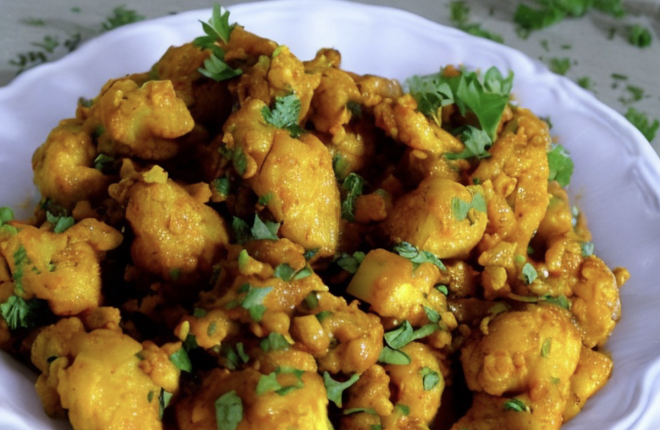 Ingredients:
1 medium cauliflower, cut into florets
2 medium potatoes, peeled and cubed
2 tablespoons of vegetable oil
1 teaspoon of cumin seeds
1 onion, finely chopped
2 tomatoes, finely chopped
3-4 garlic cloves, minced
1-inch piece of ginger, grated
1 green chili, slit (optional)
1 teaspoon of turmeric powder
1 teaspoon of cumin powder
1 teaspoon of coriander powder
1/2 teaspoon of red chili powder (adjust to taste)
Salt to taste
Fresh coriander leaves for garnish
Lemon wedges for serving
Instructions:
Follow these simple steps to create a flavorful Aloo Gobi:
Heat vegetable oil in a large pan or skillet over medium heat. Add cumin seeds and let them splutter.
Add the finely chopped onion to the pan and sauté until it turns golden brown.
Add minced garlic, grated ginger, and green chili (if using). Sauté for a minute until fragrant.
Add the chopped tomatoes to the pan and cook until they turn soft and mushy.
Now, add the turmeric powder, cumin powder, coriander powder, red chili powder, and salt. Mix well to combine the spices with the onion-tomato mixture.
Add the cubed potatoes and cauliflower florets to the pan. Mix gently to coat the vegetables with the spice mixture.
Cover the pan and cook on low heat for about 15-20 minutes, or until the potatoes and cauliflower are tender. Stir occasionally to prevent sticking.
Once the vegetables are cooked, remove the lid and increase the heat to medium-high. Cook for a few more minutes to allow any excess moisture to evaporate, and to lightly roast the cauliflower and potatoes.
Garnish the Aloo Gobi with fresh coriander leaves for a burst of freshness and aroma.
Serve the Aloo Gobi hot with roti, naan, or steamed rice. Squeeze some lemon juice on top for an extra tangy kick.
Conclusion:
With this easy-to-follow recipe, you can recreate the flavorsome Aloo Gobi dish right in your own kitchen. The combination of tender potatoes, perfectly cooked cauliflower, and aromatic spices will tantalize your taste buds and leave you wanting more. So, gather the ingredients, follow the steps, and get ready to savor the classic Indian flavors of Aloo Gobi. Whether enjoyed as a main course or a side dish, this delightful recipe will bring warmth and satisfaction to your dining table. Enjoy the culinary journey through the vibrant flavors of India!