Craving a taste of Mumbai's iconic street food? Look no further than Vada Pav – a popular and flavorful Indian snack that consists of a spicy potato fritter, known as vada, sandwiched between a soft pav bun, accompanied by tangy chutneys. In this article, we'll guide you through the steps to create an authentic and lip-smacking Vada Pav right in your own kitchen. Get ready to indulge in the flavors of this beloved street food and experience the true essence of Mumbai's culinary culture!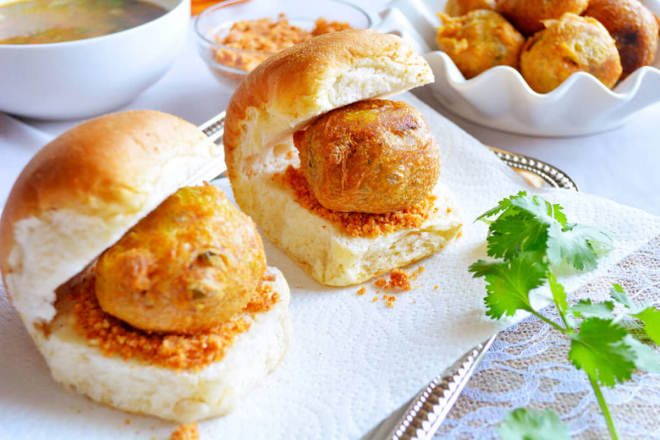 Ingredients:
To make this delectable Vada Pav, you'll need the following ingredients:
For the Vada (Potato Fritters):
4 large potatoes, boiled and mashed
1 teaspoon of mustard seeds
1 teaspoon of cumin seeds
2-3 green chilies, finely chopped
1 tablespoon of ginger-garlic paste
A handful of curry leaves, finely chopped
1/2 teaspoon of turmeric powder
1/2 teaspoon of red chili powder
Salt to taste
Vegetable oil for frying
For the Batter:
1 cup of gram flour (besan)
A pinch of turmeric powder
A pinch of baking soda
Salt to taste
Water (as needed) to make a thick batter
For the Chutneys:
Green chutney (made with coriander, mint, green chilies, and lemon juice)
Tamarind chutney (made with tamarind pulp, jaggery, and spices)
For Assembling:
Pav buns
Butter for toasting
Instructions:
Follow these simple steps to create an authentic and lip-smacking Vada Pav:
In a pan, heat oil and add mustard seeds. Once they crackle, add cumin seeds, green chilies, ginger-garlic paste, and curry leaves. Sauté for a minute until fragrant.
Add turmeric powder, red chili powder, and salt. Mix well and sauté for a minute.
Add the boiled and mashed potatoes to the pan. Mix thoroughly to combine all the spices with the potatoes. Cook for 2-3 minutes, stirring occasionally. Remove from heat and let the mixture cool.
Meanwhile, prepare the batter by combining gram flour, turmeric powder, baking soda, and salt in a bowl. Gradually add water to make a thick batter. Whisk well to ensure there are no lumps.
Heat oil in a deep pan or kadai for frying.
Take a portion of the potato mixture and shape it into a round or oval-shaped vada.
Dip the vada into the gram flour batter, ensuring it is well coated, and carefully drop it into the hot oil. Fry until golden brown and crisp. Remove from the oil and place it on a paper towel to drain excess oil.
Slice the pav buns horizontally, without cutting them completely apart. Apply butter on the inside surfaces of the buns and lightly toast them on a griddle or skillet until they are golden brown.
Spread green chutney on one side of the pav and tamarind chutney on the other side.
Place a vada in the center of the pav and press it gently.
Serve the Vada Pav hot with additional chutneys and fried green chilies on the side.
With this easy-to-follow recipe, you can recreate the authentic flavors of Mumbai's Vada Pav right in your own kitchen. The combination of spicy potato vada, soft pav buns, and tangy chutneys creates a burst of flavors that will leave you craving for more. So, bring the taste of this beloved street food into your home, gather the ingredients, and get ready to enjoy a lip-smacking Vada Pav that captures the essence of Mumbai's culinary culture. Indulge in this flavorful delight and treat your taste buds to an unforgettable experience that will transport you to the vibrant streets of Mumbai!