Quiche is a savory baked dish that originated in French cuisine. It consists of a pastry crust filled with a mixture of eggs, milk or cream, cheese, and various other ingredients such as vegetables, meats, or seafood. The filling is often seasoned with herbs, spices, and sometimes a touch of nutmeg. Quiche is typically baked until the filling is set and the top is golden brown. It is commonly served as a breakfast or brunch dish, but it can also be enjoyed as a light lunch or dinner option. Quiche is versatile and can be made with a wide variety of ingredients, making it a popular choice for both home cooks and professional chefs.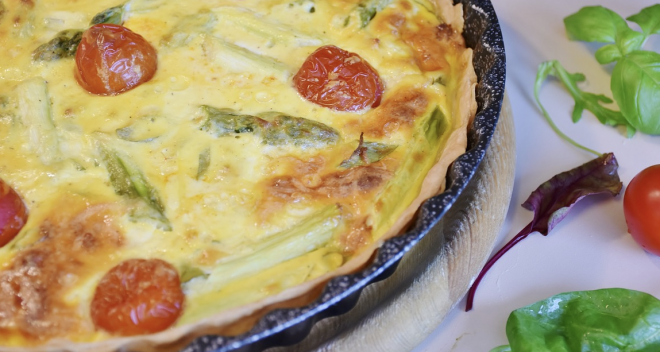 Ingredients:
1 pre-made pie crust (or you can make your own)
4 large eggs
1 1/2 cups of milk or cream
1 cup of grated cheese (such as Swiss, cheddar, or Gruyere)
1 cup of chopped vegetables (such as spinach, mushrooms, onions, or bell peppers)
1/2 cup of cooked and chopped bacon, ham, or cooked vegetables (optional)
Salt and pepper to taste
1/4 teaspoon of nutmeg (optional)
Instructions:
Preheat your oven to 375°F (190°C).
If you're using a pre-made pie crust, place it in a pie dish and crimp the edges. If you're making your own crust, roll out the dough and place it in a pie dish, then crimp the edges.
In a bowl, beat the eggs. Add the milk or cream, salt, pepper, and nutmeg. Whisk everything together until well combined.
Sprinkle the grated cheese evenly over the bottom of the pie crust.
Add your choice of chopped vegetables and cooked meat or additional vegetables (if using) to the pie crust, spreading them out evenly.
Pour the egg mixture over the ingredients in the pie crust, making sure it's evenly distributed.
Place the quiche in the preheated oven and bake for about 35-40 minutes, or until the center is set and the top is golden brown. You can test the doneness by inserting a toothpick or knife into the center of the quiche - if it comes out clean, it's done.
Once the quiche is cooked, remove it from the oven and let it cool for a few minutes before slicing and serving.
Quiche can be enjoyed warm or at room temperature and makes a great meal for breakfast, brunch, or dinner. Feel free to customize the recipe by adding your favorite ingredients or seasonings. Enjoy!