Indulge your taste buds with a delectable and mouthwatering dish that has captured the hearts of food enthusiasts around the world - Butter Chicken! This beloved Indian classic is known for its rich, creamy tomato sauce and tender chicken pieces that are marinated and cooked to perfection. In this article, we present our own irresistible Butter Chicken recipe that will leave you wanting more. So, get ready to satisfy your cravings as we guide you through the ingredients and steps to create this lip-smacking dish.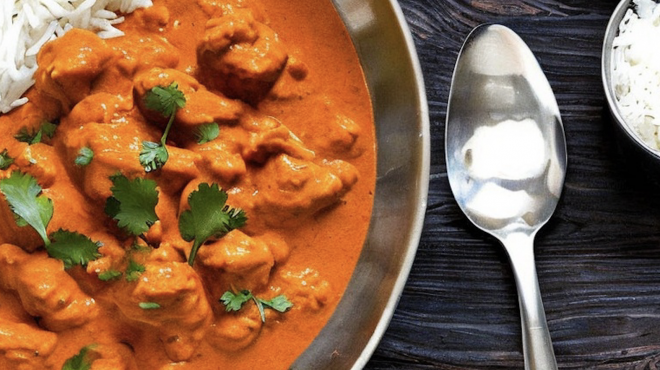 Ingredients:
To prepare this tantalizing Butter Chicken recipe, you will need the following ingredients:

Chicken:
500 grams boneless chicken pieces (preferably breast)
2 tablespoons yogurt
1 teaspoon ginger paste
1 teaspoon garlic paste
1 teaspoon red chili powder
Salt to taste
Marinade:
1 cup yogurt
1 tablespoon lemon juice
1 teaspoon red chili powder
1 teaspoon garam masala powder
1 teaspoon turmeric powder
Salt to taste
Butter Chicken Sauce:
2 tablespoons butter
1 tablespoon vegetable oil
2 medium onions, finely chopped
2 teaspoons ginger-garlic paste
1 teaspoon red chili powder
1 teaspoon garam masala powder
1 teaspoon coriander powder
1 teaspoon cumin powder
1 cup tomato puree
1/2 cup heavy cream
Salt to taste
Fresh coriander leaves for garnish
Steps:
Step 1: Marinate the Chicken
In a bowl, combine the yogurt, ginger paste, garlic paste, red chili powder, and salt.
Add the boneless chicken pieces to the marinade and mix well, ensuring each piece is coated.
Cover the bowl and refrigerate for at least 1 hour, allowing the flavors to infuse.
Step 2: Cook the Chicken
Preheat the oven to 180°C (350°F).
Place the marinated chicken on a baking tray and cook in the preheated oven for 20-25 minutes or until the chicken is tender and cooked through.
Remove from the oven and set aside.
Step 3: Prepare the Butter Chicken Sauce
In a large pan, heat the butter and vegetable oil over medium heat.
Add the finely chopped onions and sauté until golden brown.
Stir in the ginger-garlic paste and cook for an additional 2 minutes.
Add the red chili powder, garam masala powder, coriander powder, cumin powder, and salt. Mix well.
Pour in the tomato puree and cook for 5-7 minutes, allowing the sauce to thicken.
Reduce the heat and add the heavy cream. Stir gently until the sauce is well combined and creamy.
Step 4: Combine the Chicken and Sauce
Add the cooked chicken pieces to the butter chicken sauce.
Simmer on low heat for 10-15 minutes, allowing the flavors to meld together.
Adjust the seasoning according to your taste preferences.
Step 5: Serve and Enjoy
Garnish the Butter Chicken with fresh coriander leaves.
Serve hot with steamed basmati rice or naan bread.
With this simple and easy-to-follow Butter Chicken recipe, you can satisfy your cravings for a truly delightful and flavorsome meal. The combination of tender chicken in a rich and creamy tomato-based sauce is a match made in heaven. So, gather the ingredients, follow the steps, and prepare to indulge in the lip-smacking goodness of this beloved Indian classic. Bon appétit!