Rhubarb crumble is a classic dessert made with rhubarb as the main ingredient. Rhubarb is a vegetable with long, thick stalks that are often used in sweet dishes. The crumble is characterized by a layer of cooked rhubarb topped with a sweet and crispy crumbly mixture.
To make a rhubarb crumble, the rhubarb stalks are typically chopped into small pieces and combined with sugar and sometimes a thickening agent like flour or cornstarch to create a sweet and slightly tangy filling. This mixture is then poured into a baking dish.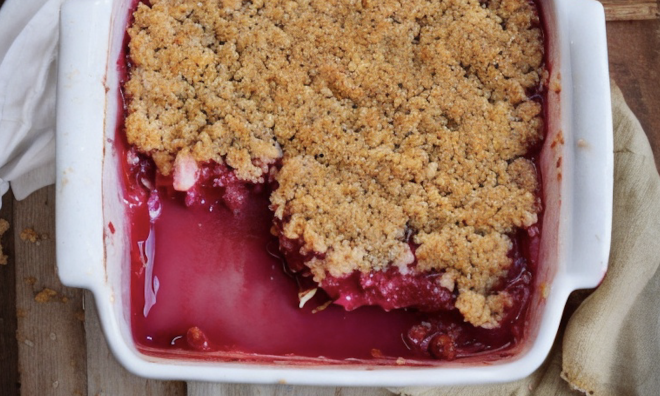 The crumble topping is made by combining flour, oats, sugar, and sometimes spices like cinnamon. Cold butter is then cut into the dry ingredients until the mixture resembles coarse crumbs. This crumble mixture is sprinkled over the rhubarb filling, covering it completely.
The dessert is then baked in the oven until the rhubarb is tender and the crumble topping turns golden brown and crispy. Rhubarb crumble is often served warm and can be enjoyed on its own or with a scoop of ice cream, whipped cream, or custard.
Rhubarb crumble is a popular spring and summer dessert, showcasing the vibrant flavors of rhubarb in a comforting and delicious way.
Ingredients:
For the filling:
4 cups of rhubarb, trimmed and cut into 1-inch pieces
1/2 cup of granulated sugar
2 tablespoons of all-purpose flour
1 teaspoon of vanilla extract
For the crumble topping:
1 cup of all-purpose flour
1/2 cup of old-fashioned rolled oats
1/2 cup of brown sugar
1/2 teaspoon of ground cinnamon
1/2 cup of unsalted butter, cold and cut into small cubes
Optional: Vanilla ice cream or whipped cream for serving
Instructions:
Preheat your oven to 375°F (190°C).
In a mixing bowl, combine the rhubarb, granulated sugar, all-purpose flour, and vanilla extract. Toss the mixture until the rhubarb is evenly coated. Set it aside for a few minutes to allow the flavors to meld together.
In a separate bowl, prepare the crumble topping. Mix together the all-purpose flour, rolled oats, brown sugar, and ground cinnamon. Add the cold butter cubes and use your fingers or a pastry cutter to incorporate the butter into the dry ingredients. Continue until the mixture resembles coarse crumbs.
Pour the rhubarb filling into a baking dish or individual ramekins, spreading it out evenly.
Sprinkle the crumble topping over the rhubarb filling, covering it completely.
Place the baking dish or ramekins in the preheated oven and bake for about 30-35 minutes, or until the rhubarb is tender and the topping is golden brown and crispy.
Once baked, remove the crumble from the oven and let it cool for a few minutes. Serve warm, optionally with a scoop of vanilla ice cream or a dollop of whipped cream.
Rhubarb crumble is a delightful dessert with the perfect balance of tartness and sweetness. Enjoy!