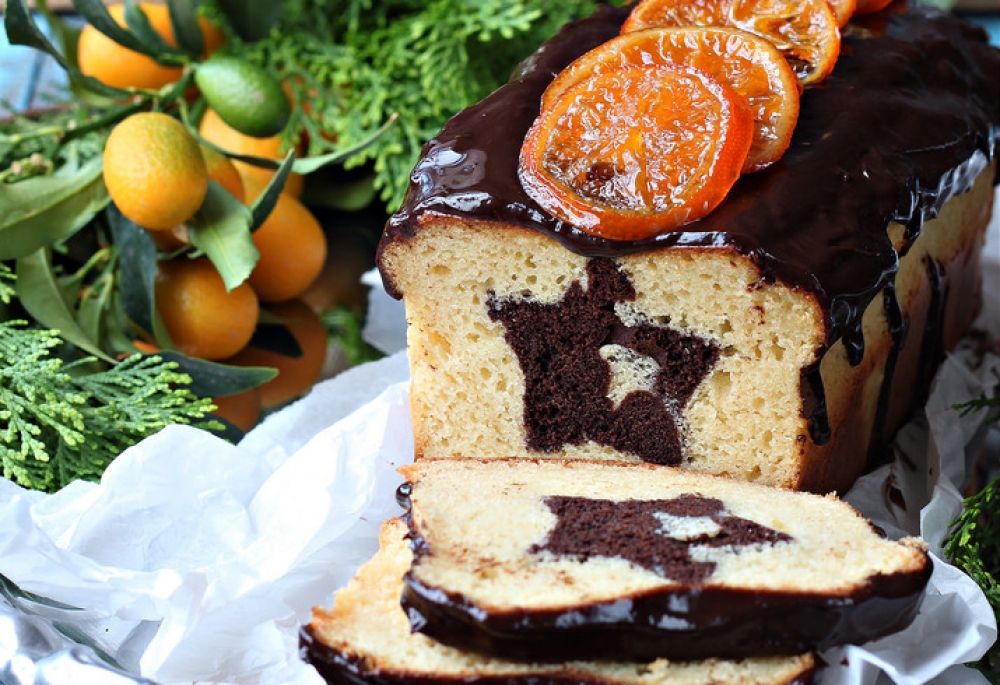 Christmas «star» cake
This Christmas cupcake has an extraordinarily beautiful «star» cut, which undoubtedly will earn a lot of compliments from your guests.
Steps
1. Preparation of the stars:

Beat eggs with sugar until light fluffy mass. Add melted butter,combine everything with a spatula. Sift flour and cocoa, add baking powder. Put the flour mix nto the egg and butter mixture combining well until smooth.

2.

Add milk, combine everything. You should get a thick, viscous mass. Put the dough into the form, spread it on the bottom and bake for 20-25 minutes. Let it cool down in the form and then cut out stars with cookie cutters.

3. Cooking and baking the cake:

Beat eggs with sugar and vanilla. Add ricotta,milk and melted butter. Sift the flour with the baking powder and combine it with the egg mass. Spread 12 of the mass in a cake pan. Put the stars cutouts close to each in the middle of the dough. Spread the remaining dough on the top. Bake for 45 minutes, check the readiness by a dry stick.

5. Cooking the glaze:

Heat cream and pour it over the broken chocolate pieces. Stir until smooth.


6.

Take the cake out of the form, pour it with the chocolate glaze.