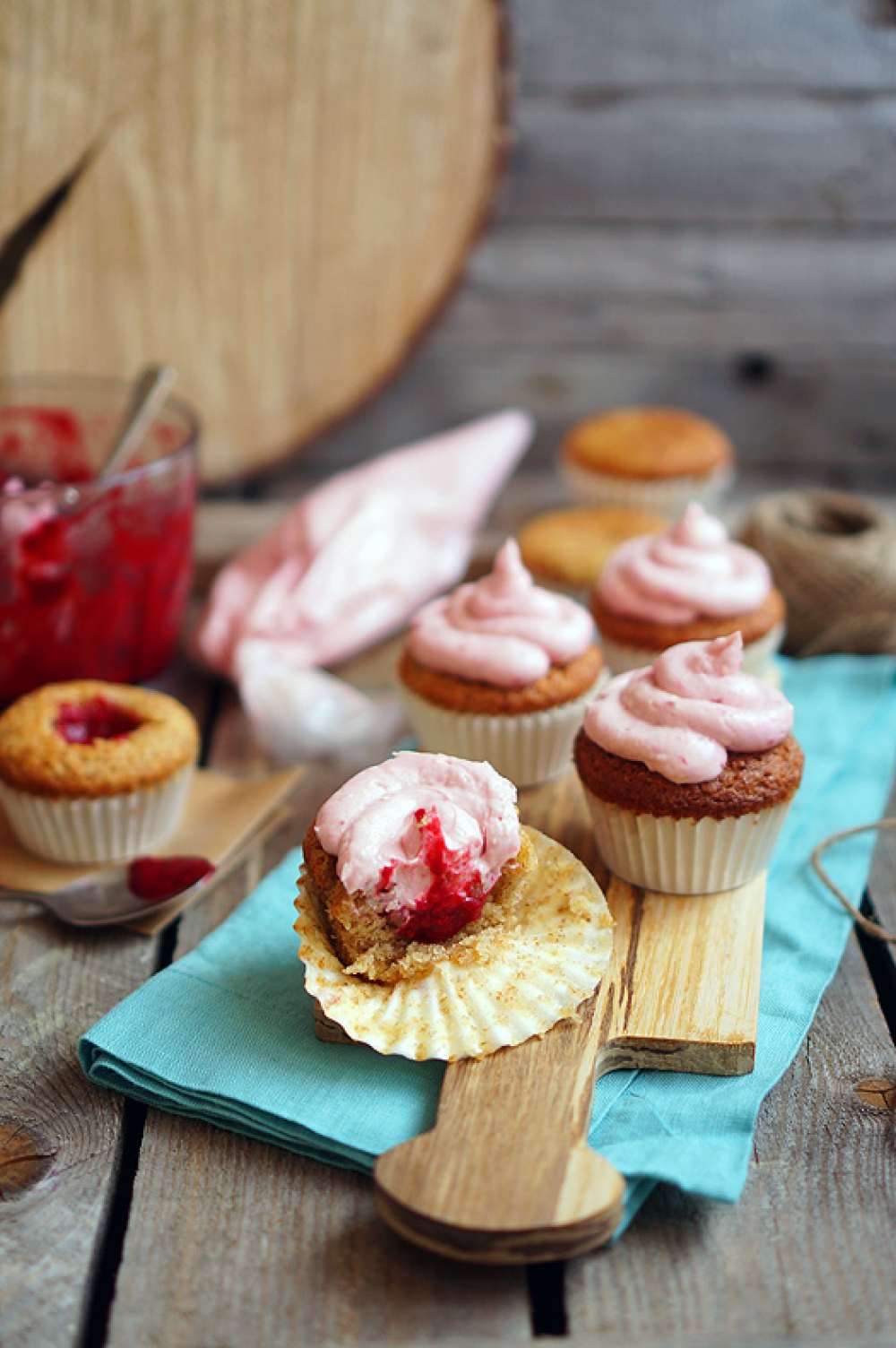 Banana cupcakes with raspberry cream
I tried banana cupcakes from whole-grain flour at weekends. To tell the truth, it is something incredible. But about everything in order.
Steps
1.

Do not be afraid of composition, actually everything is pretty available and you have all ingredients at hand. You need to keep bananas in the dark place for a couple days so that they sung and became very soft. By the way, do you know that bananas excrete substances that contribute to the ripening of fruits and vegetables? That is why you may put bananas to some unripe fruits to speed up the process of keeping pace. And vice versa, if you want bananas to be preserved longer – keep them separately (piecemeal).

2. Smash bananas like mashed potatoes.


3. Mix the butter with sugar and beat well into a homogeneous mass. The softer the oil, the better, put it on the table beforehand.


4. Then add all the other liquid ingredients, including eggs and bananas. Whip the mass carefully.


5. Mix the flour, baking powder and salt in a separate bowl. Add to a slurry and mix. Pour prepared mass into the molds.


6. Bake at 170 degrees for 10-15 minutes, it all depends on your oven and molds. As always, we check the preparedness with a wooden skewer. Out of this amount of dough, you will get about 25 caps.


7. While the cupcakes are baked, prepare the cream.


8. Mix very soft butter, very cold curd cheese and powdered sugar in a bowl at high rpm mixer.


9. In this recipe, I used raspberries as a filler for cupcakes and a dye-flavor for the cream. I just took raspberries (it can be frozen). Pound the raspberries with a blender.


10. I added to the cream a couple of teaspoons, and the rest was used as a filling of the cupcake.


11. By this time all the cupcakes have been prepared. Take out the middle of the cupcake with a spoon, pour raspberry puree and top with a cream.


12. I want to say that these are incredibly delicious and tender cupcakes. At first, the banana puree appears here both the flavor link and texture – thanks to him, the cupcakes are very soft and tender. At the same time, whole-grain flour adds a little "crunchiness" due to grains. Secondly, they are very porous, but they do not fall apart as one would expect.


13.

Raspberry core saturates the dessert with pleasant sourness, and the cream completes a slightly coarse texture in the texture of the cupcake with a gentle cap! There is nothing more to day!