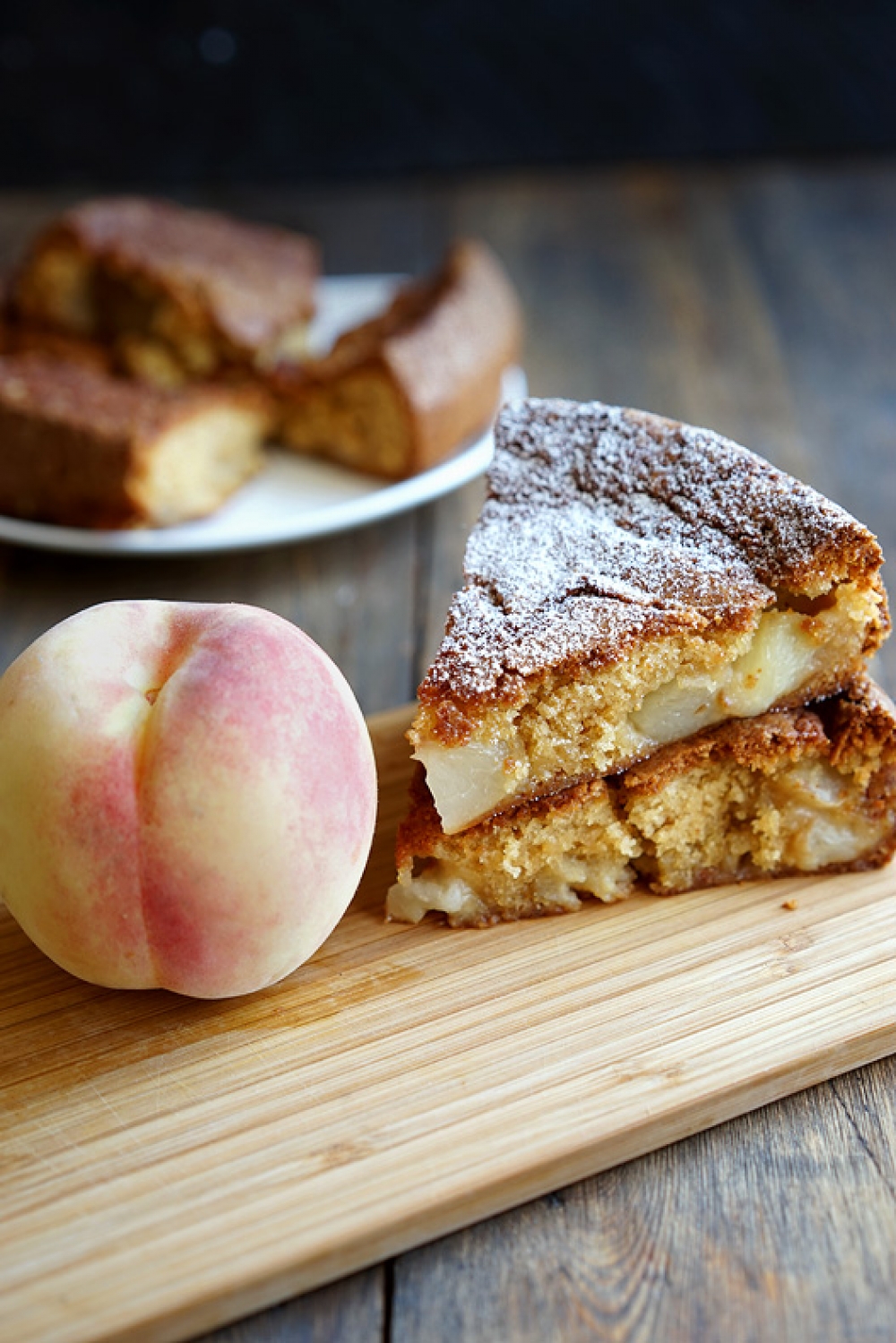 Simple Peach Pie
This simple peach pie turns to be ruddy outside and gentle inside. The dough is not too sugary; we do not need to argue with the sweetness of the fruit. So take those fruits that are near at hand (apples will also work) and prepare this village dessert.
Steps
1. First of all, cut peaches at cubes (I took two large ones).


2. Fold them in a bowl and sprinkle with a couple of spoons of sugar. I have cane one, but you can take a white one. Peaches give a little juice and will become a little more tender.


3. In another bowl, combine sugar (180 g) and room temperature butter (80-90 g). Mix well with a mixer at maximum speed, the mass will become whiter and more magnificent.


4. Addan egg (1 pc.) and neutral yogurt (125 g), vanilla extract (a couple of teaspoons).


5. Then add flour (160 g) and almond flour (80 g). If almond is not present, replace with 50 g of usual one. The taste will affect, but we can do nothing. Also baking powder (1 tsp) and soda (1/2 tsp). Beat for two minutes.


6. Oil mold (20 cm) and dust with flour.


7. Put the dough, and put the pieces of peachesfrom above. I pressed each one so that it sank into the dough. Do not be afraid that the dough is visually small, it will rise about twice.


8. Bake for 10 minutes at 175 degrees, then lower the temperature to 160 and keep in the oven for another 30-45 minutes. As the golden crust appears, start checking the readiness with a skewer.


9. Let prepared cake cool down to get a form for about 5 minutes, and then gently put on a plate. The cake is very soft, so be careful with it.


10. It has an amazingly light taste and fruity aroma.

Add recipe