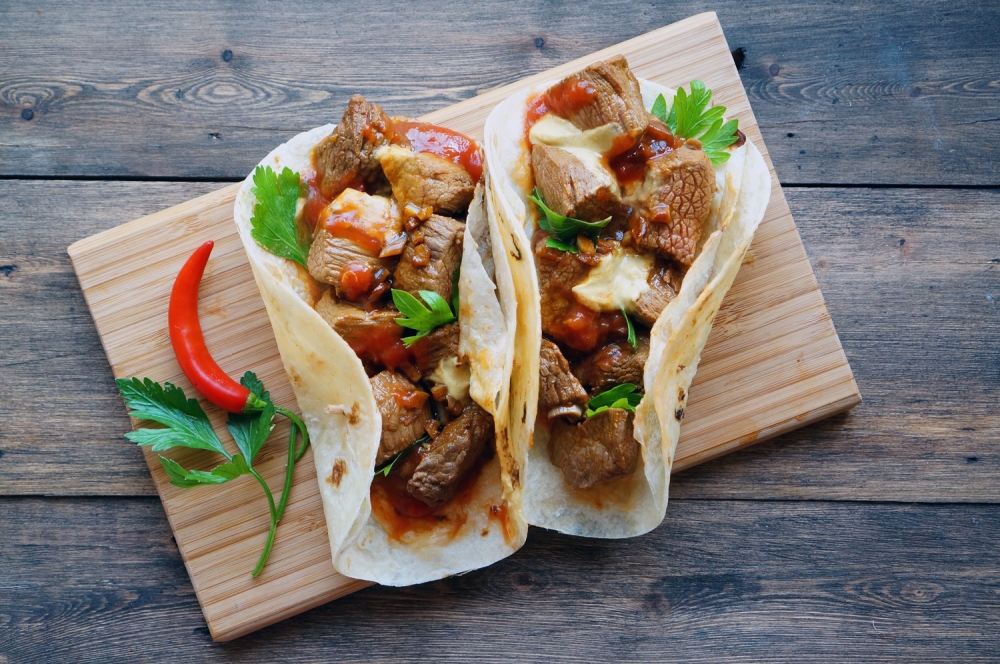 Fajita
Fajita (Spanish fajita) – a dish of Mexican cuisine, which is wrapped in tortillas (soft wheat cakes) grilled and cut strips of meat and vegetables. The most commonly used is beef, but also pork, chicken meat, sometimes seafood. To the meat sour cream, guacamole, salsa, picco de galleo, cheese and tomatoes are often added. In contrast to burrito, which is already served with stuffing, stuffing for fajita is served separately from the tortilla, and each person independently chooses what exactly to wrap in the tortilla. Since you can serve anything with tortillas, anything, I will tell you a recipe for a good marinade for meat.
Steps
1. Take any meat (800 g), which you like, for example, beef. Cut large cubes into 1 cm.


2. In a deep bowl, combine the olive oil (30 g), soy sauce (30 g), a pair of cloves of garlic (finely chopped), salt, 1/2 tsp of pepper and squeeze out the juice of one lime. Transfer the meat into the bowl, mix well and let it marinate in the fridge for an hour and a half, while the cup is better to cover with a film.


3. In a hot dry frying pan, fry the meat until ready.


4. Finished meat can be placed in a deep bowl, near put sauces: tomato and mustard. So everyone can collect their fajitas. Fragrant greens suit well – coriander, basil, thyme.

Add recipe