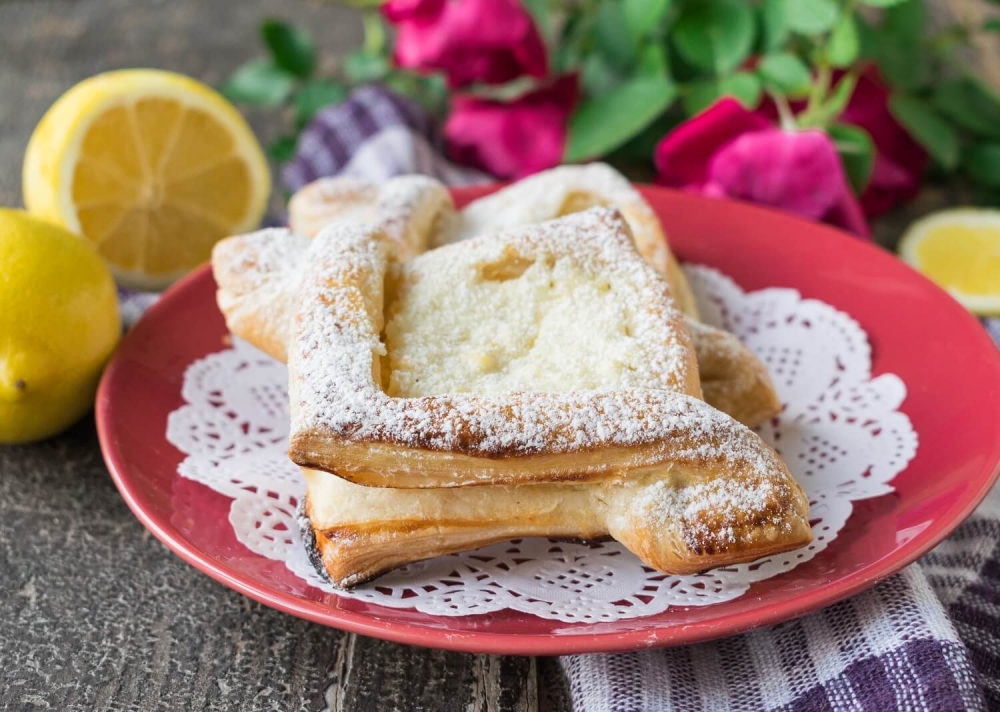 Lemon Cottage Cheese Turnovers
Do you want to pamper your loved ones with delicious and fragrant homemade cakes? Today I will tell you how to quickly and simply prepare crispy puffs with a curd filling. We will use ready-made puff pastry, so we need minimum time to prepare the baking. Lemon zest gives cottage cheese filling a spicy citrus note, making the puffs especially tasty. If desired, pre-cooked raisins or other finely chopped dried fruits can be added to the curd filling.
Steps
1. For 1-1,5 hours before the preparation begins, take the flaked, unleavoted dough from the freezing chamber, so that it will be defrosted and become elastic. In the meantime, prepare the filling for the puffs. Sift cottage cheese of medium fat content through a sieve to make the filling more tender and homogeneous. Then add sugar, zest of one lemon, vanillin and cinnamon for flavor to the curd. In order for the filling to keep the shape and not spread, add one chicken egg.


9. Put the puffs to the oven heated to 180 degrees. Bake them at an average level of about 20-25 minutes, so that they are completely baked and browned from above. Finished puffs with curd filling remove at once from a baking tray, cool a little and decorate with powdered sugar. Serve them with tea, coffee or cocoa.

Add recipe