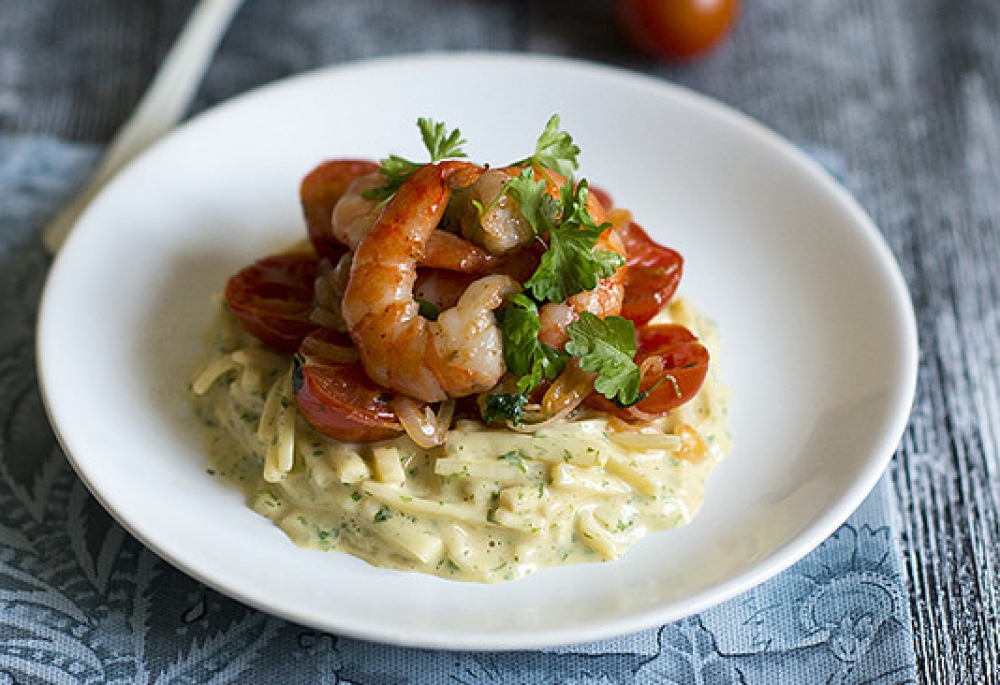 Remoulade with celery root
Remoulade is a cold sauce based on mayonnaise with mustard, chopped herbs, gherkins, capers, etc. In this recipe well make a remoulade with chopped celery and serve with warm shrimps and cherry tomatoes.
Steps
1.

Clean the celery from rough peel, cut out the core of a smooth parallelepiped and cut it into strips.

2.

Blanchere celery in boiling water, adding a little salt and lemon juice, for 30 seconds.

3.

Discard in a sieve, then spread on a napkin to get rid of the excess of moisture.

4.

Shake up yolks in bowl with salt, pepper and mustard. Eggs can be previously cooked within a half to two minutes, this way the yolks will remain runny, but thermally processed.

5.

Start to pour drops of oil, continuing to shake. When the body of a sauce begins to form, start to pour more oil.

6.

The sauce should be not too thick and not too liquid.

7.

When the sauce is formed, add lemon juice and curry.

9.

Mix up the sauce, add chopped greens and pour a tablespoon of hot water (this will give the sauce a lighter texture). Mix actively.

10.

Mix the sauce with celery.

11.

Cover with the film. Send to cold.

12.

Cut the cherry tomatoes in halves and fry lightely in olive oil with sugar and salt.

13.

Add roughly chopped shallot and chopped cilantro. Cook the onions leaving them a little crunchy.

14.

Fry shrimps in olive oil, previously heated with a clove of garlic.

15.

16. Extract the shrimps from the pan, pour them with orange juice and soy sauce. Reduce the amount of liquid a little bit.

16.

Mix the finished sauce with shrimps.

17.

Put a layer of celeriac with remoulade on the plate, then warm tomatoes with the shallots, then shrimps and, finally, decorate the dish with greens.
Add recipe