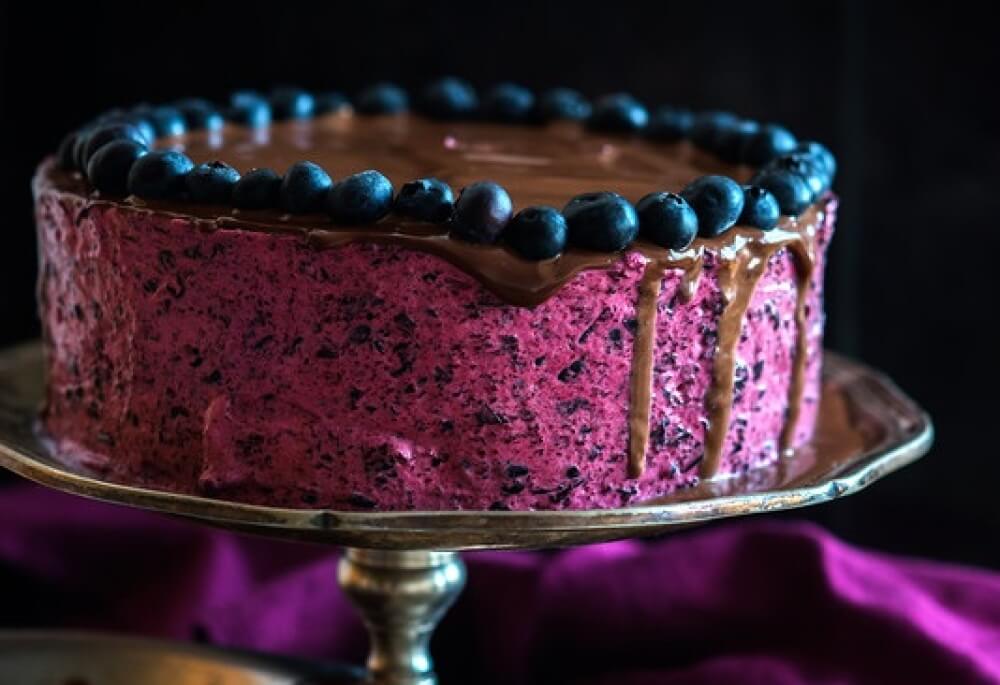 A chocolate cake with blueberry mousse
A chocolate cake with blueberry mousse represents a delicious combination of a delicate cake, custard and blueberry mousse. This light cream mousse will make any dessert festive. it is the perfect complement to the rich chocolate flavor. This is one of those recipes where everything seems to be simple and obvious, but the ingredients are so well balanced that the final result is outstanding.
Ingredients
Freshly brewed hot coffee
Steps
1.

Mix the buttermilk, oil and egg. Sift all the dry ingredients on the top, mix quickly. Pour hot coffee into the dough and stir. Put the dough in the baking pan, with a diameter of 20 cm and bake in the oven preheated up to 180C for about 35-40 minutes until a dry toothpick. Cool, cut the «hump», if it is formed and cut the cake into 2 equal parts.

2.

Soak gelatine in the water according to the instructions. Blend the berries.

3.

Put the puree, sugar and lemon juice into a saucepan and heat until the sugar dissolves (do not boil). (If you are using raspberries, at this stage you can rub the mixture through a sieve).

4.

Add the swollen gelatin to the hot blueberry mixture and stir until dissolved, cool to room temperature and mix gently with whipped cream.

5.

At the bottom of a ring or a split baking pan with a diameter of 23 cm lay parchment, put 1 layer of the cake and spread half of the mousse. Put it into a refrigerator or a freezer until firm. Put the second layer of the cake and the remaining mousse, put into a refrigerator for a few hours to harden.