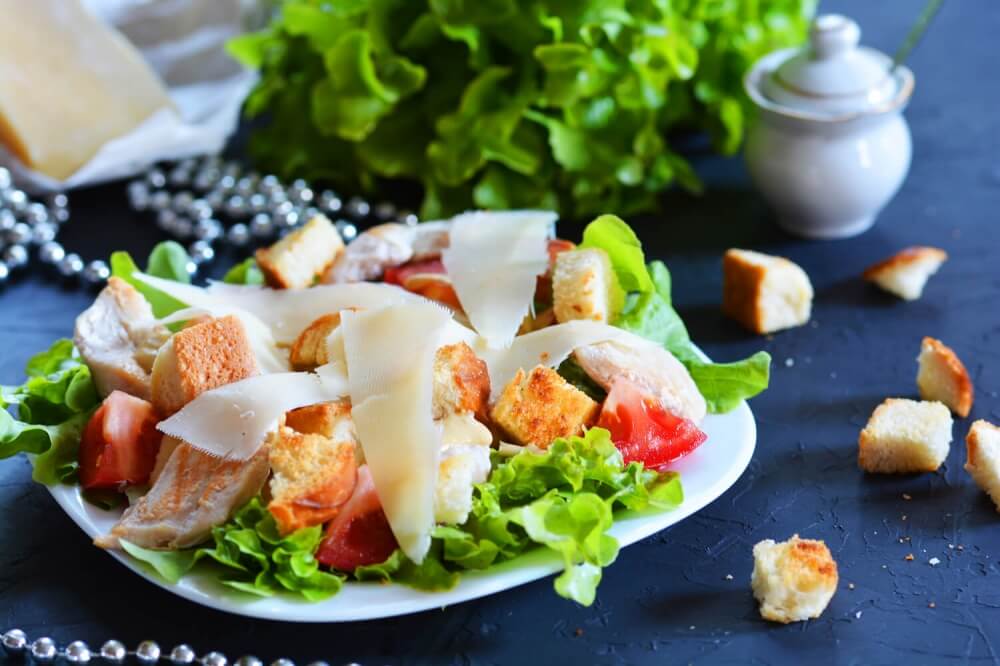 Classic Chicken Caesar Salad
Caesar salad is the real classics of cookery for nearly 100 years. This dish was born in the twenties of the last century thanks to the American chef with Italian origin Caesar Kardini. Owning several restaurants, he added into the menu this salad popular to this day. The most interesting that the compounding of salad came to genius mind of Caesar Kardini absolutely accidentally. When in kitchen of one of his restaurants there were not enough products, and the hall was filled by visitors, he decided to prepare something from what was in fridges. By the way, by the same principle the Italian dishes known to all as pizza and the frittat were made. Today we offer you the recipe of Caesar salad with incredibly tasty dressing. Surely try to make dressing for salad yourself and do not replace it with usual mayonnaise or store analogs. When you taste the Caesar dressing together with lettuce leaves, pieces of a gentle chicken, the crackling croutons, vegetables and cheese, you won't be able to forget this amazing taste.
Steps
1. For a start it is necessary to boil eggs which will be necessary for us for dressing. Pour in cold water in a pan, shift eggs into water and put the pan on fire. We will need hard-boiled eggs, to say boiled egg yolks are more right. In 10 minutes remove eggs from fire and cool, at once shift them in very cold water. Later shell eggs, and then separate the yolks from the egg whites. Put aside boiled egg whites to the cold place for use in other dish.


6. Next let's prepare dressing for salad. Pour in a deep bowl (or at once in a blender bowl) olive oil, shift the boiled egg yolks cleaned from bones anchovies or sprats there (at will it is possible to leave bones: usually even the simplest blender copes with them and mills well), the garlic which is passed through a press, the lemon juice which is squeezed out from 1/2 lemons, balsamic vinegar, mustard, salt and pepper. Homemade Caesar Dressing: eggs - 2 pcs; anchovies or a sprat - 6 pcs; garlic - 6 cloves; olive oil (high-quality, not purified) - 100 ml; balsamic vinegar - 2 tbsps.; lemon - 1/2 pieces; mustard (or mustard powder) - 1 tsp; black pepper - to taste; salt - to taste.

Add recipe