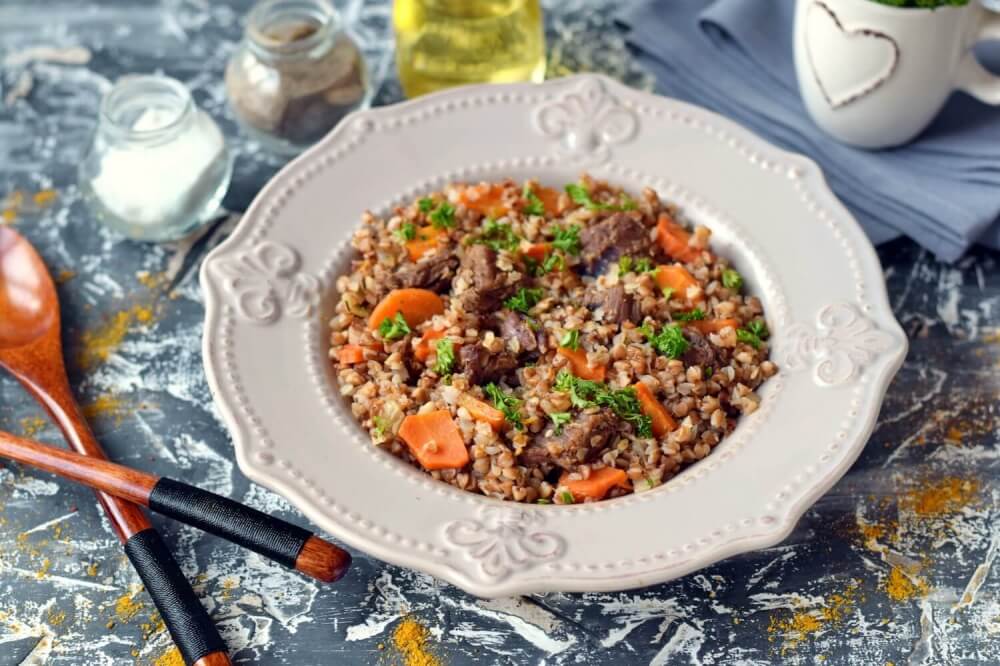 Russian Stewed Buckwheat with Beef
This recipe of buckwheat has very rich taste. This taste turns out by stewing of grain and meat in one ware. Also vegetables are added for more taste and juiciness. It is possible to choose any vegetables depending on taste. As meat use different types, in this recipe beef is used. The advantage of the recipe is that you get full second dish where a side dish and meat ingredient are connected. It is possible to feed all family with such nourishing and tasty buckwheat that is why don't forget to save the recipe.
Steps
2. Throw vegetables on the warmed up frying pan, in advance pour in it 2 spoons of oil. Brown carrots together with onions to softness and transparency of onions, at the same time carrots pieces will still remain firm. Rinse meat, dry moisture with a paper towel, cut into small pieces. Put the browned vegetables aside. Pour one more spoon of oil in an empty surface of a frying, after it warms up lay out meat. The frying pan has to be as hot as possible, turn on high fire. During high heating meat will instantly get a ruddy crust, leaving all juice inside. Too much salt can make meat dry therefore salt it closer to the end of frying. Cook beef for 5 minutes.