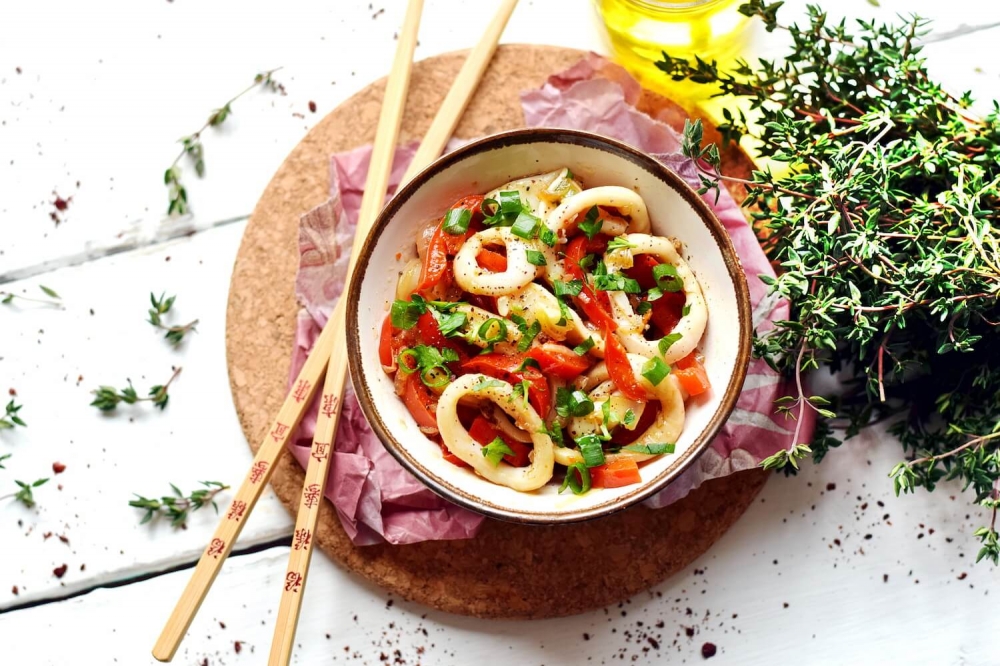 Chinese Style Calamari
Calamari in Chinese style are juicy snack with bright taste which can safely be served on a festive table. Snack will be also suitable for an everyday diet. It is a magnificent change for the daily menu. In addition to its delightful taste, the dish has considerable nutrition value and low caloric content. It is a pleasure to prepare
squids
as they need the minimum heat treatment. As additional vegetables we take sweet pepper and onions. This mix is stewed in juicy marinade which is not only emphasizes, but also strengthens flavoring notes of each component.
Steps
3. Rinse the cleaned tubes of squids under flowing water inside and outside to clean them from an ice crust and surely dry drops with a paper towel. Then cut squids into strips or rings of the large size.

Throw them in a frying pan to vegetables, salt, add pepper and seasonings to your taste, for example, perfectly will approach an oregano. Fry seafood no more than 1 minute, regularly mixing. Squids do not need long heat treatment as they become hard and rubber like.
Add recipe