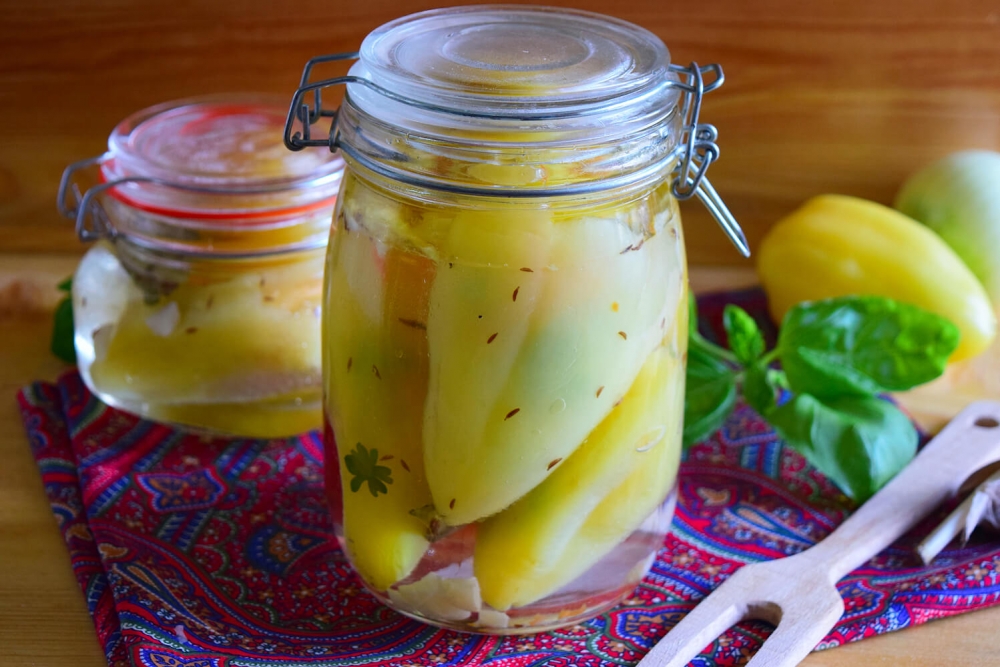 Pickled Sweet Peppers Stuffed with Cabbage and Carrots
From a rich variety of fresh summer vegetables it is possible to prepare the tastiest preparations. Our today's recipe is excellent proof to that. Today for you we will stuff sweet pepper with cabbage and carrots.
Steps
1.

Let's prepare ingredients. Carefully wash all vegetables, necessary for work. Peel and wash carrots. Clean onions and garlic from a peel and chili from seeds. Sterilize jars in an oven for 20 minutes at the minimum heating (no more than 150 degrees). Accurately with sharp edge of a knife clean sweet pepper from a fruit stem and seeds. You need to receive hollow capacities for a stuffing.

7. In the dry sterilized jars lay out bay leaves and add the garlic cloves cut largely on pieces. Let's lay out accurately prepared sweet pepper. Let's prepare marinade. In a pan pour in 0.5 liters of water, add vinegar, fill up sugar, and fill in oil and salt. Bring this mix to boiling and add caraway to the boiling marinade. In four minutes it is possible to remove marinade from a cooking surface.

Add recipe