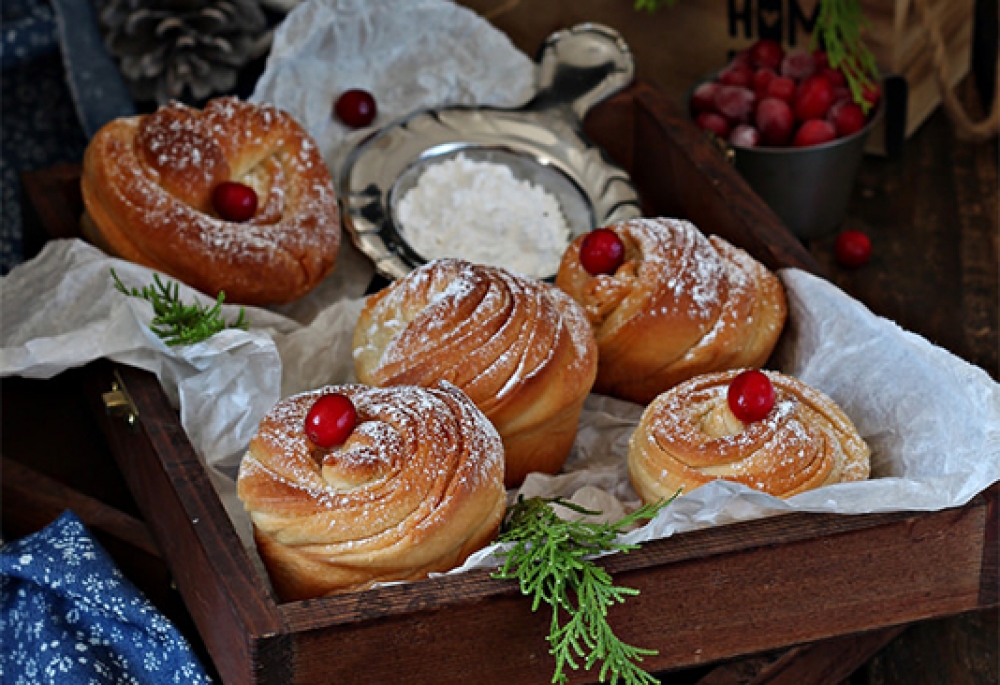 Cruffin
Cruffin is a wonderful, extremely delicious and exquisite cake. It is a hybrid of a muffin and a croissant. The essence of this muffin is in its unusual dough which takes the flaking consistency of a croissant during the baking process. The dough is made with yeast, lots of butter and milk.
Steps
1. Preparation of the dough:

Sift the flour into the bowl of the mixer, add sugar and yeast. Add water, melted butter (50 g) and salt. Knead for 20 minutes with a hook attachment until soft, smooth and not sticking to hands dough.

2.

Roll the dough into a ball, grease a bowl with oil, put the dough inside and leave it to rise for one hour until it grows two times.

3. Forming and baking the cruffins:

Knead the dough and divide it into two parts.Then each part divide into three.

4.

Roll the parts of the dough into balls and leave for 10 minutes. Take one ball and roll it out into a very thin rectangle, if you have a machine for pasta, you can use it. The main thing is to roll out very thinly!

5.

Grease it with soft butter, it is better to do it by hand. Tightly make a roll from the recatangle and cover it with a towel.

6.

Do the same with the other balls. Grease the form for muffins with oil. Cut the roll into two equal parts with a sharp knife.

7.

To form the cruffin, fold the strip so that the layers are on on top and are visible. Turn it, as if you are forming a knot.

8.

Put the cruffins into the form. We will get twelve pieces. Cover them with a towel and leave for 30 minutes - 1 hour. By the way, you can prepare cruffins in advance, leave them in the fridge overnight and then bake.

9.

Heat the oven up to 210 degrees.

10.

Bake cruffins for 15 minutes until golden brown. Cool them on a grille.

11.

Optionally, cruffins can be filled with some sweet toppings. You can choose any filling up to your taste — chocolate cream, jam, caramel, vanilla pudding, orange marmalade and so on.
Add recipe