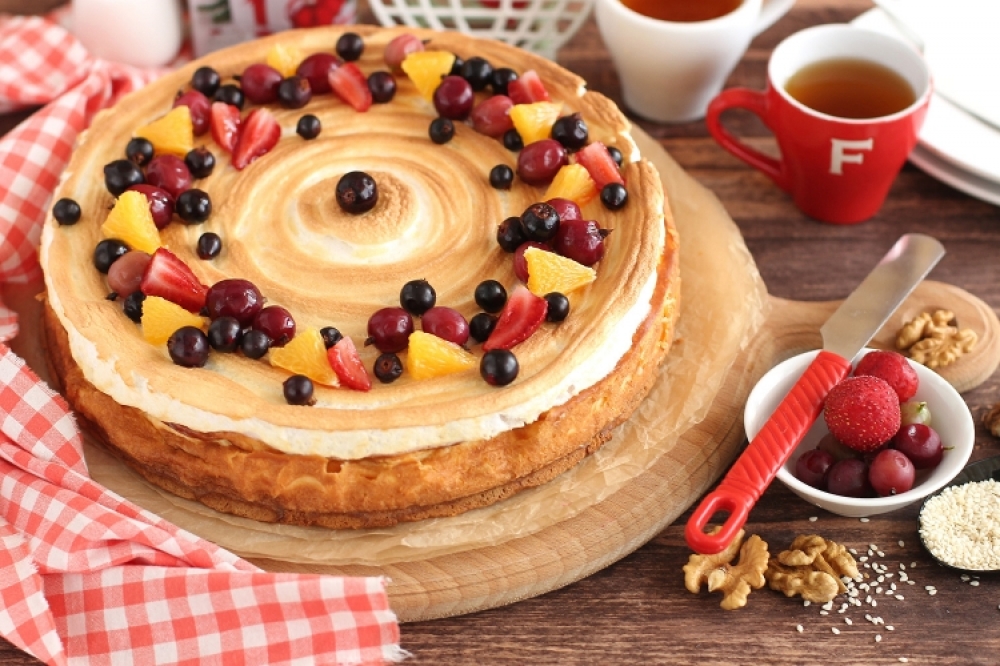 Multi-layered pie with cottage cheese pudding
A cooking workshop: a pie with cottage cheese pudding sounds incredibly tempting... However, it tastes just divine! They say, the first fans of puddings, including cheesecakes, were the English kings and lords. Fortunately, the recipe of cottage cheese pudding has not remained a secret of the English aristocracy, and now we can also enjoy a delicate texture of this dessert. Today in our menu, it is not just the pudding but the pudding in the framing of sandy paste layers and airy protein cream. So the dessert is deservedly claims the title of a «cake», the prefix "perfect" and applause of many sweet hounds!
Steps
5.

Quickly distribute a thin layer in a baking pan(diameter 24-26 cm). Pre-grease the sides of the pan with butter, lay the bottom with parchment. Dont be daunted by the thinness of the dough. In the process of being in the oven it rises in two times, and the finished product will be about 1.5-2 cm. If you have a detachable mold (and it suits this recipe perfectly because if you use another type of a pan there will be some problems with pie extraction) firmly press the edges of the dough to the sides. Check that there are no gaps between the dough and the iron rim. You need to do everything in a fast pace, for the dough not to "float". Put in the oven to bake for 15 minutes at 180.

15. Strongly recommend you to remove the pie from the pan until it is completely cool. Otherwise you will not be able to take the whole pie, because the pudding will take its stable form only after the absolute cooling. Patient ones will get a real reward – a magnificent piece of three-layer pie which can be decorated with berries, nuts or chocolate ornaments.

Bon appetit!
Add recipe