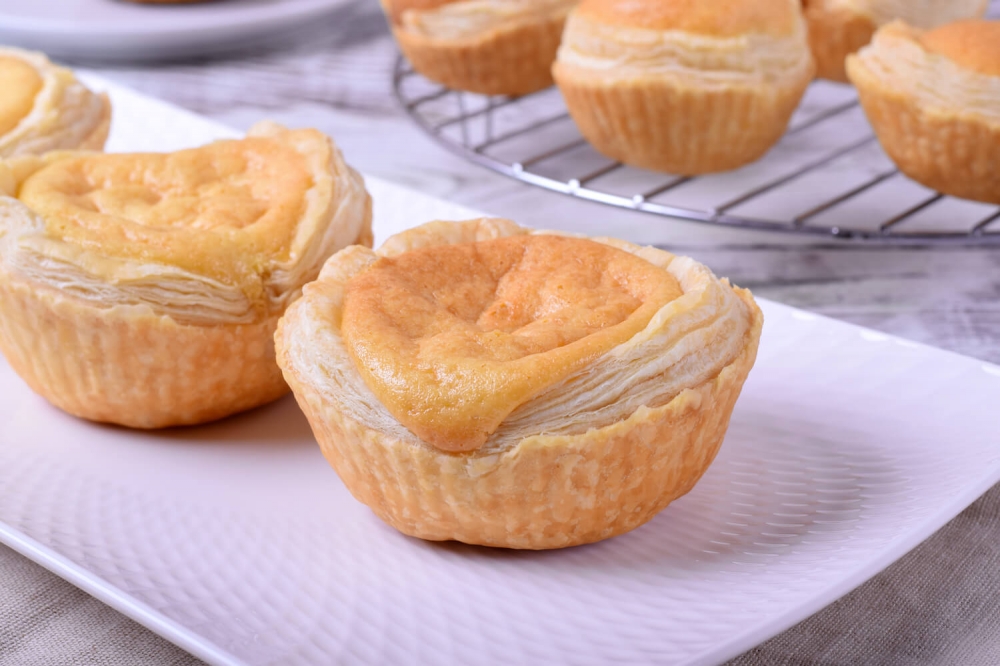 Portuguese Vanilla Cream Puff Cakes
Puff cakes with cream are originally from the city of Belén, and a special dish of Portugal. They are served in many cafes and restaurants across the country, not just in Belen. It isn't difficult to prepare such cakes at home, the only "but" is that to prepare cream you will need many egg yolks. What about the egg whites? For example, bake meringues. But it is a different story and now let's cook a treat from Portugal.
Steps
1. If the puff pastry is frozen, from the evening let's transfer it to the fridge so that it delicately unfreezes. Note that cream is measured not in milliliters, but in grams. Mix sugar with vanillin. Take the zest off the lemon on small grater.

Preparation of cakes begins with preparation of vanilla custard. It can be cooked on a water bath, which will significantly increase the time of dessert preparation. And you can cook it by putting a saucepan on the smallest fire and, stir constantly, control the process so that the custard doesn't overheat.

So, in a saucepan with a thick bottom pour sugar with vanillin, add egg yolks and lemon zest.

4. Hot custard is pretty liquid. Its readiness can be checked in a following way: sink the wooden spoon in the custard, and then with a finger let's draw a line. If the line stays and does not flow, then the custard is ready.

Before moving on, let's grate the custard through the sieve and cool down by covering with the food wrap "in contact." You can speed up the cooling process by putting a ware with custard in ice or in ice water.

5. Heat the oven to 200-205 ° C and prepare forms for baking portion cupcakes. If necessary, grease forms with vegetable oil. Cut out circles from the puff pastry. Their diameter depends on the forms in which the cakes will be baked. Line forms with puff pastry to make high sides, pin the bottom of the preparations with a fork, and then fill with cooled custard. It is not necessary to pour custard to the edges of the dough, because in the oven it will boil and slightly increase in volume, and therefore, can flow over the edges.

Add recipe