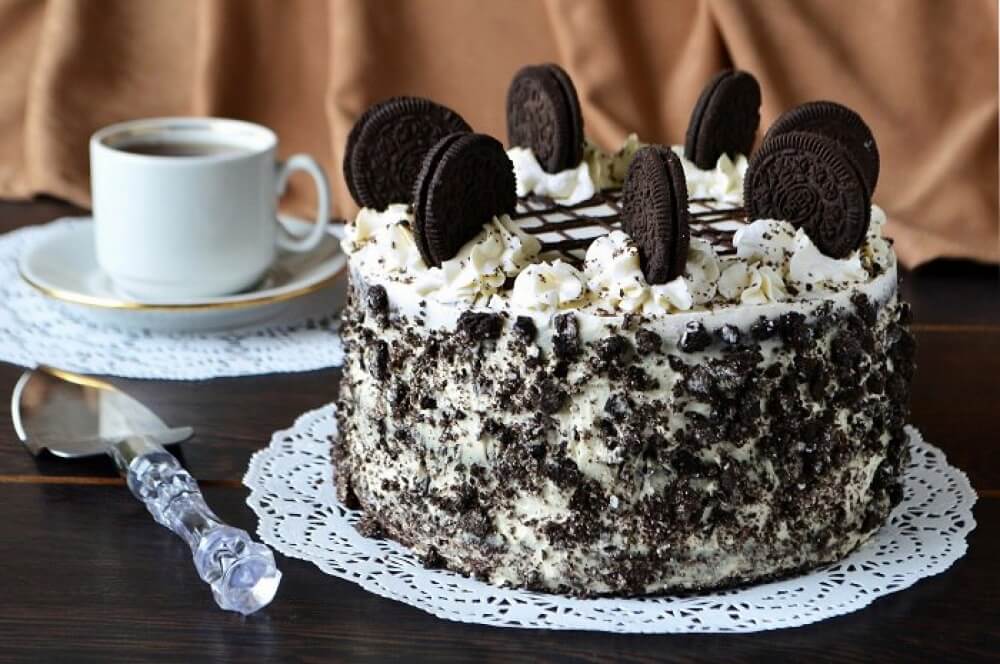 Cake «Oreo»
Almost everybody is familiar with crispy chocolate cookies - «Oreo». But not everybody has tasted cake «Oreo» yet, so today we propose you to cook this unique to flavour dessert. The recipe of the cake «Oreo» can not be called simple and fast in performance, cause it takes time to bake three cakes, each of which is kneaded and baked separately. But all these «inconveniences» are repaid fully. The cake «Oreo» comes out wonderfully tasty and very beautiful in appearance, so it will fit for the holiday feast just perfectly.
Steps
1.

For the cake «Oreo» we need to bake three chocolate cakes. The dough for each biscuit will be kneaded separately, so in the recipe it is given the number of products required for only one cake. Combine flour, soda, baking powder and cocoa. Sift the resulting mixture in a handy for kneading dough cup.

7.

Bake a chocolate cake fr about 30-35 minutes at 180 degrees. The readiness is defined by either a puncture of a skewer, or a slight tap on the surface of the cake. Get the ready cake from the mold, carefully remove the parchment and leave the cake to cool upside down or on the grill or on a piece of baking paper. Such cooling (in an inverted position) will ensure the leveling of the surface of the cake.