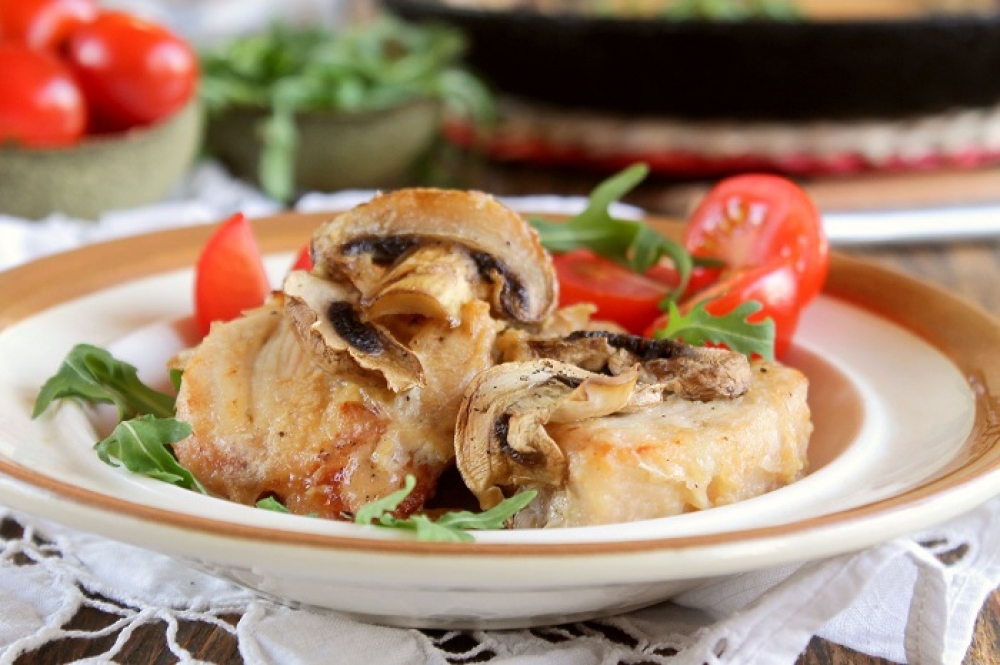 Chicken fricassee with mushrooms
I propose you to cook a delicious dish of French cuisine - chicken fricassee with mushrooms. I do not just propose but even insist on it, you will surely go into raptures from this recipe. The chicken comes out tender and juicy, and the sauce is so wonderful that it is impossible to pull away from it! It is airy, light and very tasty, with a bit of pleasant sourness, so becoming to chicken.
Steps
1.

Divide previously washed and dryed lean flesh of poultry into large slabs, put the chicken in a plastic bag, add a portion of wheat flour, tighten the edges of the package and carefully shake the contents. This way you can produce the breading of meat of any cutting. Flour lays evenly and, most importantly, subtly covers every single cube/block/layer.

2.

The next step of the preparatory phase is to cut peeled onion and clean the mushrooms. Cut an onion into half rings, and meaty mushrooms — into 4-5 pieces along from caps to stipes. If you prefer smaller cuts, cut up to your taste. But the secret of the recipe of our fricassee in a pan that the taste of each and every product should be felt separately and do not get lost in the whole mass.

3.

Heat the pan, melt butter, that saturates the dish with sweet and delicate notes. Place one layer of the powdered meat workpieces. Throw a branch or two of spicy thyme. Fry fillets until golden brown on both sides. Notice that no salt and no pepper still participates in the cooking process. To save the juice inside the fibers, at first we just conduct the heat-treatment and only towards the end of the process season the prduct with salt and pepper.
Add recipe