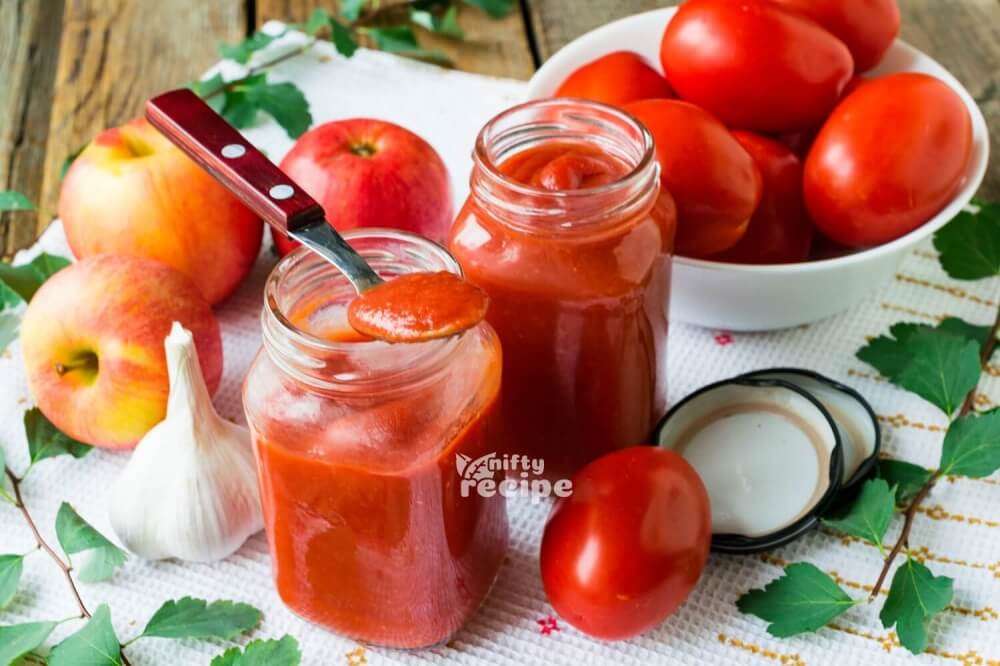 Homemade Tomato Sauce
Fragrant, piquant homemade tomato sauce and well balanced in taste is perfectly combined with pasta, baked potatoes, barbecue and other meat dishes. The sauce prepared according to this recipe is much tastier and more useful than from the store. Apples in this recipe serve not only as a delicious and fragrant additive, but also act as a natural thickener. The pasta sauce contains salt, sugar and vinegar, as well as fragrant seasonings that emphasize the taste of vegetables and apples. From this amount of ingredients 500 ml of ready tomato sauce with apples are obtained. If desired, it can be stored in hermetically closed glassware on the shelf of the fridge.
How To Make Homemade Tomato Sauce
Steps
3.

Put a pan with ingredients on a high fire. Cover the pan with a lid, bring the tomatoes with apples to a boil. Then open the lid so that moisture from the pan evaporates faster, and reduce the power of the cooker to a minimum. Stir periodically and simmer tomatoes with apples until soft for 20-25 minutes. Then add spices so that the spaghetti sauce becomes fragrant.

8.

Add vinegar to the canning spaghetti sauce. Return the pan on the fire, continue to cook the sauce for another 2 minutes. Transfer the finished sauce into sterilized glass jars. Tightly close the jars with lids. Turn the jars with preservation upside down, wrap them with a blanket and leave them until they cool completely. Ready-made tomato sauce, the recipe of which I recommend you to repeat, will be stored in a dry cool place.
Add recipe