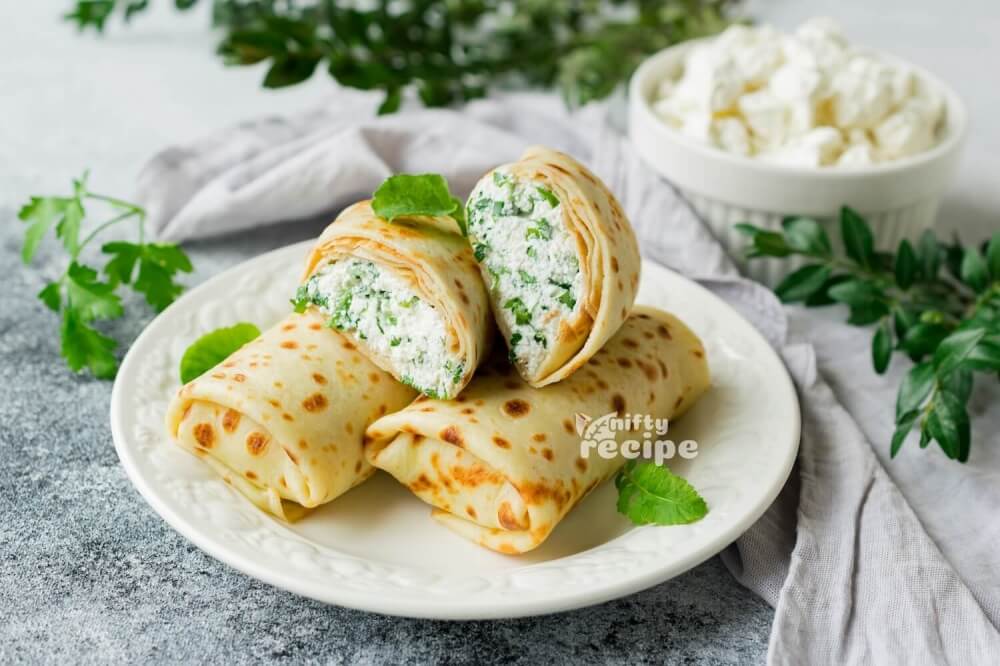 Cottage Cheese Crepes
Delicate easy crepes with cottage cheese and greenery are ideal for late breakfast on the day off or can be served as a light dinner if served with vegetable salad. Such Russian crepes are convenient to take with you to work or to a picnic. The batter recipe for crepes is universal, so it can be used for both sweet and salty fillings. For cottage cheese filling, I used dill, parsley and green onions. In addition, cilantro, basil, spinach or wild leek can be added to cottage cheese. Sour cream, if desired, can be replaced with natural yogurt. Crepes according to this recipe are very tender and thin. Juicy and fragrant filling perfectly complements crepes, making them incredibly tasty. Ready breakfast crepes can be frozen and stored in the freezer. Before serving, the crepes must be heated in a microwave oven or fried in a frying pan with butter. Try also a recipe for crepes with cheese and mushrooms.
The Best Crepe Recipe
Steps
8.

Pre-heat the frying pan for crepes, grease with a small amount of vegetable oil using a silicone cooking brush. Pour a small amount of crepes batter onto the frying pan. Turning the frying pan in circular movements, distribute the batter in a thin layer along the entire perimeter of the frying pan.

11.

Finely chop dill and parsley, cut spring onion feathers into thin rings. Add crushed greenery to the filling together with sour cream. Mix the filling for crepes until homogeneous consistency. If desired, the filling can be salted to taste. The filling for cottage cheese crepes with greenery is ready.
Add recipe