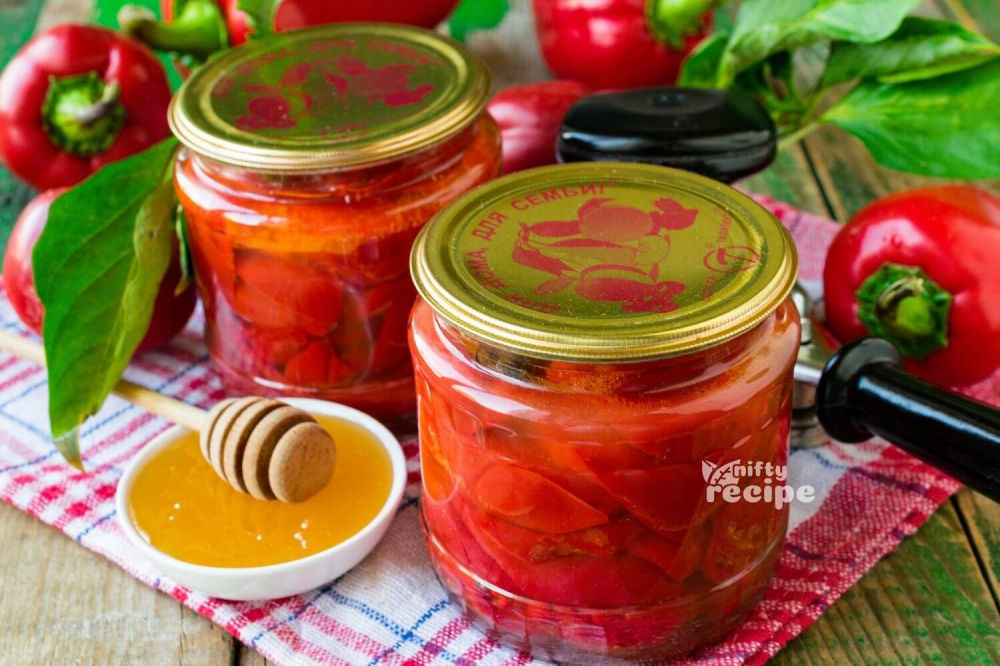 Pickled Peppers with Honey
Pickled bell peppers with honey is very fragrant, with a piquant note of spices and honey. Juicy slices of sweet pepper, soaked in fragrant dressing - an incredibly tasty snack that looks beautiful on the festive table. Pickled vegetables are great as a snack for meat, poultry or fish. If you like pepper canning, be sure to try cooking and this recipe, you will probably like it. From this number of products 3-4 half liter jars are obtained. The number of blanks depends on how tightly you will put pepper into jars. For a recipe, use juicy, fleshy red sweet pepper. Any kind of honey is suitable for the recipe. If you are allergic, honey can be replaced with sugar, 120 g of sugar will be enough.
How to Make Pickled Peppers
Steps
8.

Put a small towel on the bottom of a deep and wide pan so that the jars do not crack during sterilization. Cover the jars with pepper with metal lids (do not tighten the jars!). Put the jars in a prepared pan. Pour warm water into the pan, it should reach the "shoulders" of the jars. Put the pan with preservation on fire, bring the water to a boil. Sterilize jars with a volume of 0.5 l for 10 minutes, jars with a volume of 1 l must be sterilized for 15-20 minutes.
Add recipe