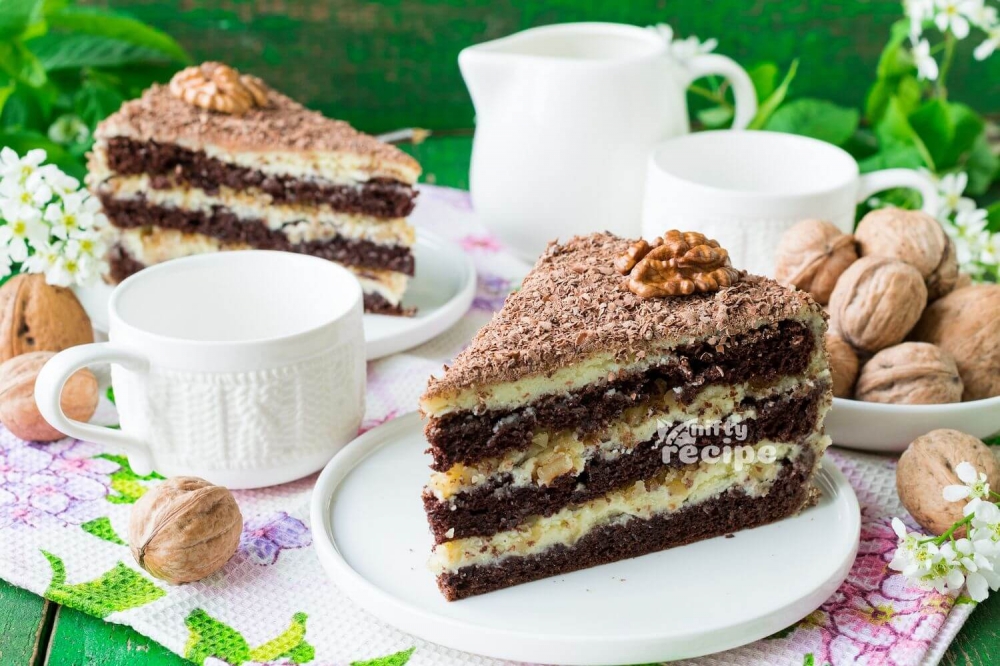 Chocolate Custard Cake
Chocolate custard cake, the recipe for which I will tell you in detail today, is a surprisingly tasty combination of air chocolate layers made of sponge on egg whites and a delicate custard cream. To make dessert even tastier, add fried walnuts to the sponge layers. They will make the taste of the chocolate cake with custard filling even more saturated and bright. In addition to nuts, dried fruits can be used to layer the cake, prunes or dried apricots are best suited. The chocolate sponge can be baked in advance and stored in a fridge, tightly wrapped it in a food wrap. Note that during the preparation of the cream, the custard base and butter should be approximately the same temperature, otherwise the cream may flake.
Airy and Light Chocolate Custard Cake
Steps
15.

Then, in several steps, add a custard base to the whipped butter, each time mixing the cream with a mixer until homogeneous consistency. Divide the finished cream into 3 parts. Let's gather chocolate cake with custard cream. On the first layer put 1/3 part of the custard cream, evenly distribute it on the entire perimeter. On top, put half of the crushed walnuts, pre-fried on a dry frying pan. Alternating layers, gather the whole cake.
Add recipe