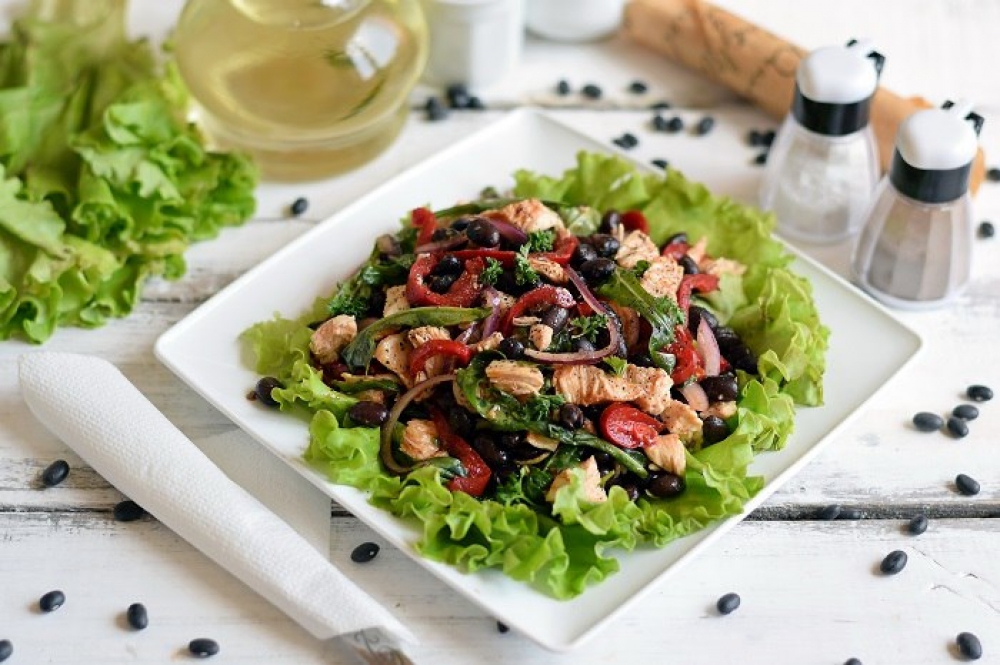 Black Bean Salad in a Spicy Dressing
An original and exquisite salad, the highlight of which is presented by black beans. The salad turns out very hearty and nourishing, because the beans go together with chicken meat. A purple onion makes the taste of the salad more sharp, and a bell pepper adds a sweetness. As greens, spicy mustard arugula and parsley are used. Also the sophisticated, consisting of several components, dressing complements the salad. It emphasizes the individuality of the dish, dissimilarity with the others.
Steps
1.

Black beans, like any other species, are better to soak in water to swell, and so to make them half prepared. The proportion of 3 to 1 should be applied in the cooking. The cooking time of black beans is about 1 hour. It is better not to throw salt, otherwise the beans can be hard. Rinse and cool the ready beans.

2. Prepare a chicken in advance - rinse it, to remove the membrane and fat streaks, load it in a pot of water, set on a burner and cook for about 10 minutes after the boiling point. Throw a pinch of salt in water for the chicken not to be dull. Then let the finished fillet cool completely and cut it into small cubes.


5.

At the same time create a dressing in a pan: set it on a stove, pour oil in specified portions, then add pasta and soy sauce, stir intensively for the paste to be completely dissolved in the liquid base. Season the dressing with proposed spices, simmer on a small flame for about 2 minutes, stirring occasionally with a wooden spatula.
Add recipe