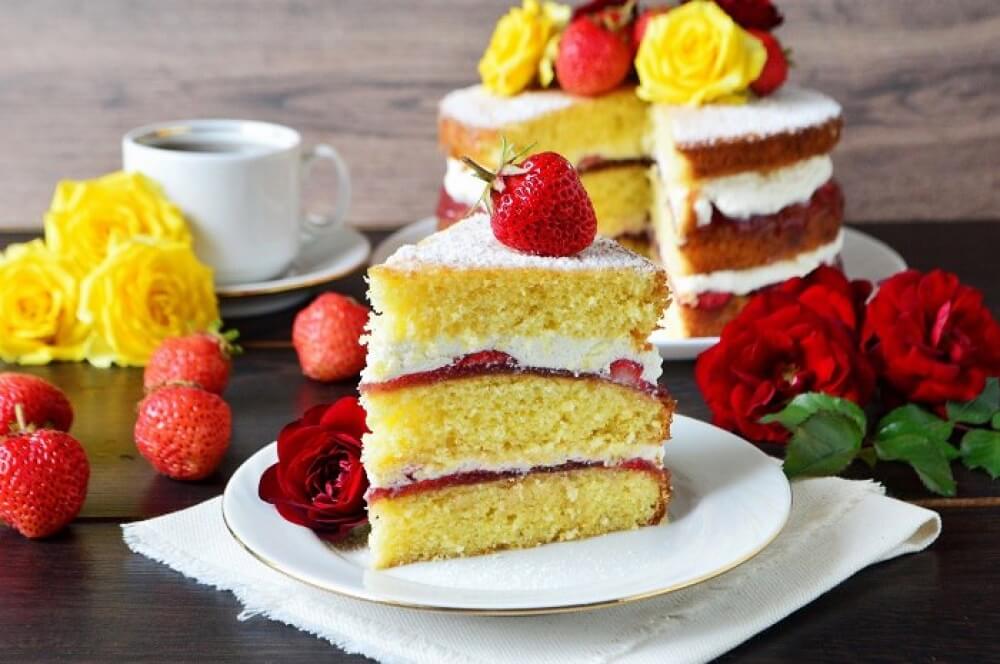 Victoria Sponge Cake
An extremely delicate cake «Queen Victoria» is a dessert, which wonderfully combines simplicity and elegance. Quite dense, but very soft and porous cakes with moisture structure are interleft by thick strawberry jam and whipped cream. It turns out to represent simply divine combination of flavors. The main condition for «proper» baking of a cake «Queen Victoria» is an equitable ratio of flour, sugar, butter and eggs, which provides an unmatched final result. That is why measuring out the ingredients «by eye» in this recipe is impossible. But overall the recipe is very affordable to implement, therefore, bake, decorate and enjoy the tenderness of this dessert.
Steps
4.

Get a thick, but fluffy dough, from which we will bake three cakes.

9.

Place thick strawberry jam in the microwave for 15 seconds to warm it, and thereby to thin out its consistency slightly. Wash fresh strawberries, remove the stems and cut the berries into plates. Add the jam and gently stir. Let the jam cool down and regain its thickness. The result is a strawberry mixture with slices of fresh strawberries.
Add recipe