Chicken Pesto Roll Ups
Chicken Pesto Roll Ups
How to cook Chicken Pesto Roll Ups: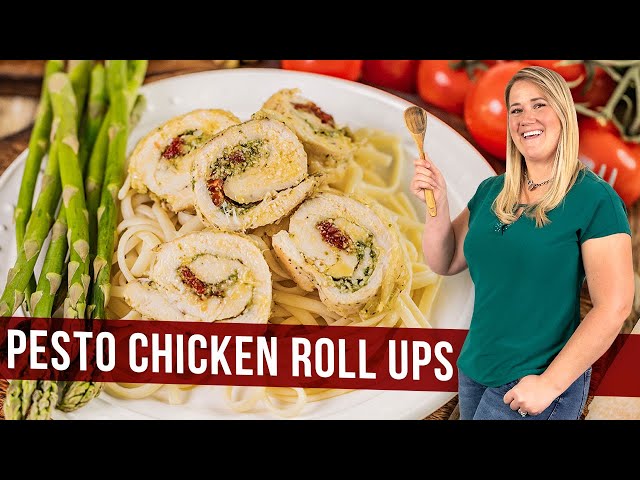 Heavenly homemade pesto and sweet yet tart sun-dried tomatoes come together with thinly sliced chicken breast for these tasty and unique pesto chicken roll ups. You'll enjoy a blast of flavor in every bite!
Ingredients

• 3 chicken breast horizontally cut and pounded flat into cutlets
• 1/2 cup sundried tomatoes finely chopped
• 1 teaspoon salt
• 1 teaspoon pepper
• 1/2 teaspoon garlic powder
• 2 tablespoons olive oil
• 1/2 cup heavy cream
• 1 cup mozzarella cheese shredded
• 1 cup Parmesan cheese freshly grated
Pesto:
• 2 cups fresh basil leaves loosely packed
• 3 whole cloves garlic
• 1/2 cup grated Parmesan cheese
• 1/3 cup olive oil
• 1/4 cup pine nuts
Instructions
Preheat oven to 350 degrees Fahrenheit.
Take one piece of chicken and horizontally cut it in half. Take the half and place it in between 2 sheets of plastic wrap and pound it flatter. Finish with all the chicken breast.
Lay out the chicken cutlets and sprinkle them on both sides with salt, pepper and garlic powder.
Spread 1 tablespoon of the pesto mixture onto the chicken breast along about 1/2 tablespoon of sundried tomatoes. Roll up tightly and secure with toothpick.
In an oven safe dish, heat up 2 tablespoons of olive oil on the stove top over medium high heat. Add in the chicken and let brown on all sides. About 6-8 minutes.
Using the leftover pesto, mix it together with cream and leftover sundried tomatoes. Pour over the chicken.
Remove from heat, sprinkle with cheeses and place in oven. Bake for 15-20 additional minutes until chicken safely reaches a temperature of 165 degrees Fahrenheit.
Pesto:
Measure the fresh basil leaves by loosely packing them into a measuring cup. Place the leaves into a food processor or blender.
Add in garlic, parmesan cheese, olive oil, and pine nuts. Blend until fairly smooth.
Store in an airtight container in the fridge for 5 to 7 days.
Complete recipe:
Other category recipes - Appetizers