Mapo Tofu
Mapo Tofu
*Recipe on video and text may differ from each other!
How to cook Mapo Tofu: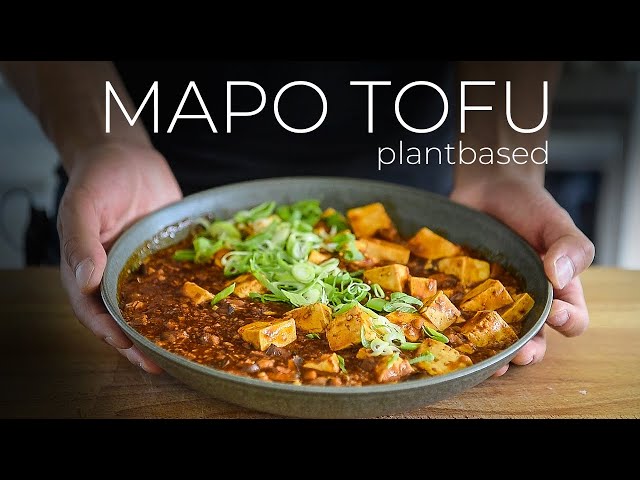 LEARN HOW TO MAKE THE ULTIMATE UMAMI VEGETARIAN MAPO TOFU RECIPE TODAY!

LAY HO MA (how's it going in Cantonese)! I know I say every recipe is my favourite, but this one is special because it really brings me back to my childhood. Join me in this episode and learn how to make the most incredible mapo tofu recipe today!
Ingredients:
4 dried shiitake mushrooms
2 1/2 cups water
2-3 sticks green onion
1 cup canned chickpeas
1lb medium firm tofu
2-3 pieces garlic
small piece ginger
2 tsp Sichuan peppercorns
3 tbsp chili oil
1 tsp cayenne pepper
2 tbsp doubanjiang
1 tsp cane sugar
2 tsp rice vinegar
1 tbsp soy sauce
1 tsp dark soy sauce (optional)
2 tsp potato starch
Directions:
1. Place the dried shiitake mushrooms and the 2 1/2 cups water into a small saucepan. Cover and bring to a boil, then let it cook for about 10min
2. Finely chop the green onions. Rinse and drain the canned chickpeas, then mash with a fork into a crumble
3. Drain the water from the medium firm tofu. Then, slice into bite sized cubes
4. Pour out and set aside the mushroom water. Cool down the shiitakes with cold water. Then, squeeze out the excess liquid, remove the stalks, and finely chop. Finely chop the garlic and ginger
5. Heat up a sauté pan to medium heat. Add in the Sichuan peppercorns and toast for about a minute. Transfer to a pestle and mortar and crush
6. Heat the sauté pan back to medium heat. Add in the chili oil followed by the crumbled chickpeas and shiitakes. Sauté for a couple of minutes
7. Add the ginger and garlic. Sauté for 2-3min. Add the cayenne pepper, doubanjiang, and toasted Sichuan peppercorns. Give the pan a good stir
8. Add the mushroom water, cane sugar, soy sauce, and optional dark soy sauce. Give the pan a good stir
9. Make a slurry by stirring together the potato starch with 1 tbsp of water. Then, slowly pour the slurry into the sauce while stirring. Gently add and stir in the tofu. Then, allow the sauce to bubble away for another minute
10. Plate and garnish generously with the freshly chopped green onions. Serve with freshly steamed rice!
If you enjoyed this episode and would love to see more, remember to like, comment, and subscribe so that you won't miss a single episode!
Hong Kong born Canadian, Wil Yeung is an international photographer, filmmaker, entrepreneur, violinist, and YouTube chef. He immigrated to Canada when he was a young boy carrying with him his ability to speak Cantonese and some broken English. Much of his culinary aspirations stem from his background in the visual and musical art spaces. Whether you're plant based or plant based curious, Wil believes that learning how to make food can really change your life and of those around you.
Other category recipes - Dinner recipes