Hazelnut cream and coconut roll
Hazelnut cream and coconut roll
How to cook Hazelnut cream and coconut roll: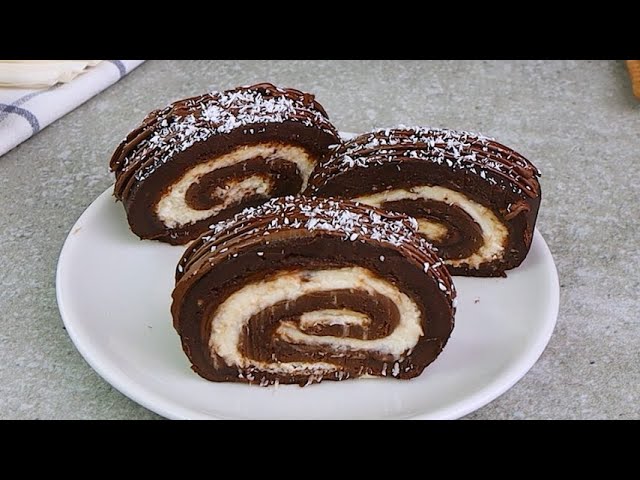 INGREDIENTS
For the base:
300g of biscuits
40g (1/4 cup) of butter (melted)
15g (2 tbsp) of cocoa powder
12g (1 tbsp) of sugar
100ml (1/2 cup) of milk
For the filling:
200g (1 cup) of mascarpone
100g (1/4 cup) of greek yogurt
7g (1 tbsp) of powdered sugar
20g (1/4 cup) of rapé coconut
For stuffing:
For decorating:
Hazelnut cream
Rapé coconut
METHOD
1. Add the biscuits to the food processor and mix. Transfer them to the bowl.
2. In a bowl with biscuits add the butter (melted), cocoa powder, sugar, and milk and mix to obtain the firm and homogenous dough. Wrap with cling film and transfer to the fridge for at least 30 minutes.
3. In a bowl add the mascarpone, greek yogurt, powdered sugar, and rapé coconut and mix until all is well combined.
4. After 30 minutes remove the dough from the fridge and place it at the bottom and at the top sheet of cling film.
5. Roll out the dough to obtain a uniform thickness of a few millimeters. Remove the cling film that is on top.
6. Spread the hazelnut cream and then the prepared coconut cream on top and level it up well.
7. Roll it up with a helping of the sheet cling film left underneath. Wrap it with cling film and transfer it to the fridge for at least 5 hours.
8. After time has elapsed remove from the fridge and decorate the roll with the hazelnut cream and rapé coconut.
Complete recipe:
Other category recipes - Desserts