Halloween cake
How to cook Halloween cake: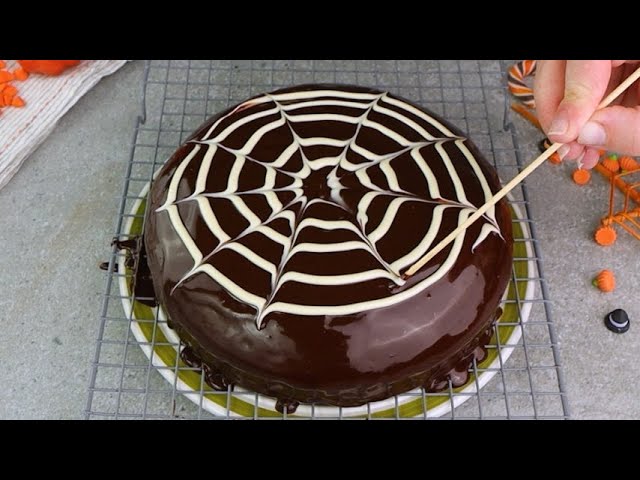 INGREDIENTS
3 eggs
320g (1 1/2 cups) of sugar
Vanilla essence
250ml (1 1/4 cups) of seed oil
250ml (1 cup) of milk
375g (3 cups) of flour
12g (3/4 tbsp) of baking powder
25g (1/4 cup) of cocoa powder
Chocolate ganache
White chocolate
METHOD
In a bowl add the eggs, sugar, and vanilla essence and mix with an electric mixer. Add the seed oil and milk and continue mixing. Mix with an electric mixer until the mixture becomes light and fluffy.
Sift the flour, add the baking powder, and mix at low speed, until the mixture is smooth.
Divide the dough into equal parts and add the cocoa powder to one of the bowls.
Grease a 20 cm pan and line it with parchment paper. Pour a spoon of cocoa mixture into the center, followed by another spoon of vanilla mixture. Proceed to alternate the two batters until they are finished, in order to obtain multiple concentric circles.
With the skewer stick pull the lines to create the zebra decoration. Transfer to the oven and bake at 180°C/360°F for one hour.
Unmold the cake, transfer it to the cake rack and pour the chocolate ganache on top. Spread it evenly with the help of the spatula.
Pour the white chocolate on top creating the circle shape and pull out the lines from the center to the end to create the spider web decoration.
Other category recipes - Desserts