Pumpkin bars
More recipes from channel - Cookist Wow
How to cook Pumpkin bars: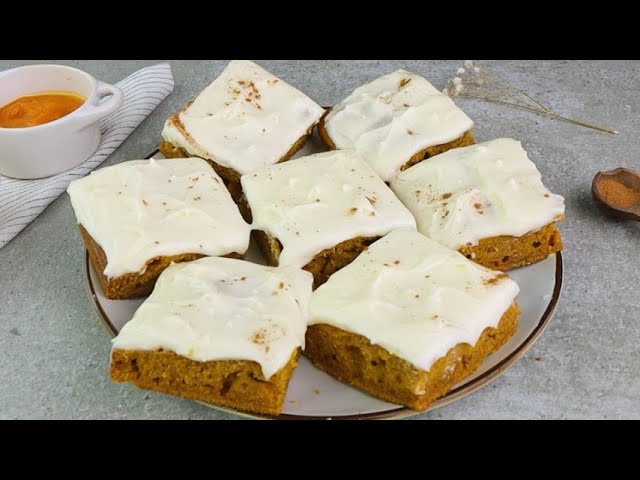 INGREDIENTS
200g (1 cup) of brown sugar
50g (1/4 cup) of sugar
3 eggs
425g (1 3/4 cups) of pumpkin puree
160ml (2/3 cup) of vegetable oil
60ml (1/4 cup) of milk
10ml (2 tsp) of vanilla essence
240g (2 cups) of all-purpose flour
5g (1 1/2 tsp) of cinnamon
1/4 tsp of ground ginger
1/4 tsp of nutmeg
5g (1 tsp) of baking soda
5g (1 tsp) of baking powder
4g (3/4 tsp) of salt
1/2 tsp of allspice
Cinnamon powder
For the frosting:
115g (1/2 cup) of butter
225g (1 cup) of cream cheese
4g (1 tsp) of vanilla essence
340g (3 cups) of powdered sugar
METHOD
1. In a bowl add the brown sugar, sugar, eggs, and pumpkin puree and whisk.
2. Add the pumpkin puree, vegetable oil, vanilla essence, flour, cinnamon, ginger, nutmeg, baking soda, baking powder, salt, and allspice and mix all together well to obtain a lump mixture.
3. Pour the mixture onto the baking tray(25x38cm baking tray size) covered with parchment paper. Transfer to the oven and bake at 180°C/360°F for 25 minutes.
4. Make the frosting by beating room temperature cream cheese and butter together until combined then add the powdered sugar and vanilla. Beat on low then switch to high for about three minutes or until light and creamy.
5. Once the base is cool cover it with the cream cheese frosting, garnish with the cinnamon powder, cut on slices, and serve.
Other category recipes - Baking
Add recipe