Ramen
Ramen
Subscribe to our Telegram channel
@nifty_recipe
. Here you will find all the latest photo and video recipes!
*Recipe on video and text may differ from each other!
How to cook Ramen: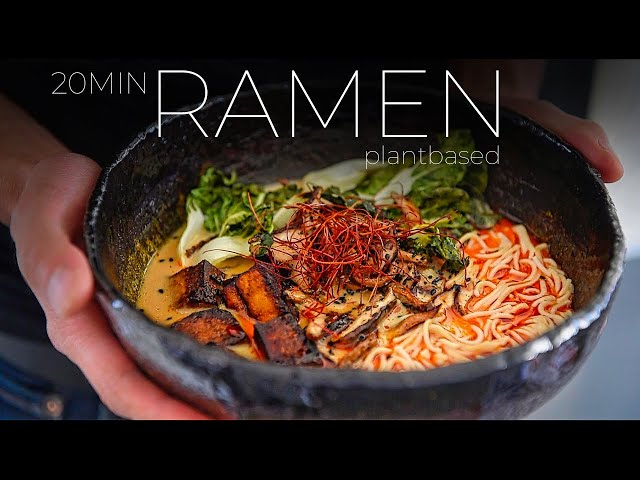 Ingredients:

3 cups vegetable stock
5g kombu
1/4 cup cashews + 2 cups water
3 baby bok choy
75g shiitake mushrooms
1 tsp avocado oil
pinch of salt
pepper to taste
100g medium firm tofu
1/2 tsp cumin
1/4 tsp + 1/4 tsp toasted sesame oil
1 tsp + 1 1/2 tbsp soy sauce
1 tsp dark soy sauce
1 1/2 tbsp chili oil
1 tbsp white sesame paste
chili threads to serve
black sesame seeds to serve
Directions:
1. Preheat the oven to 375F and bring a pot of water to boil for the noodles
2. In another pot, bring to a boil the vegetable stock and kombu
3. Make the cashew milk by blending the cashews and 2 cups water in a high powered blender until liquefied
4. When the vegetable stock comes to a boil, turn the heat off and remove the kombu
5. Chop the baby bok choy in half and slice the shiitake mushrooms. Toss them in a mixing bowl with a pinch of salt, pepper, and avocado oil
6. Spread the veggies onto a baking tray lined with parchment paper.
7. Pat dry the tofu and slice into bite sized cubes. Toss in a mixing bowl along with the cumin, splash of toasted sesame oil, 1 tsp soy sauce, and the dark soy sauce. Then, spread onto the baking tray with the veggies and bake in the oven for 15min
8. Pour in about 1/2 cup of cashew milk into the vegetable stock while whisking
9. In the ramen bowl, whisk together 1 1/2 tbsp soy sauce, splash of toasted sesame oil, 1/2 tbsp chili oil, and the white sesame paste
10. A few minutes before the veggies are roasted, heat up the broth while whisking occasionally. Boil the ramen noodles to package instructions (in this case, about 3-4min)
11. Pour the hot broth into the ramen bowl and give it another whisk. Strain out the noodles and add to the bowl. Assemble the bowl as you like with the roasted veggies. Then, garnish with chili threads, black sesame seeds, and a drizzle of chili oil
Other category recipes - Recipes