Turkey Pot Pie
Turkey Pot Pie
How to cook Turkey Pot Pie: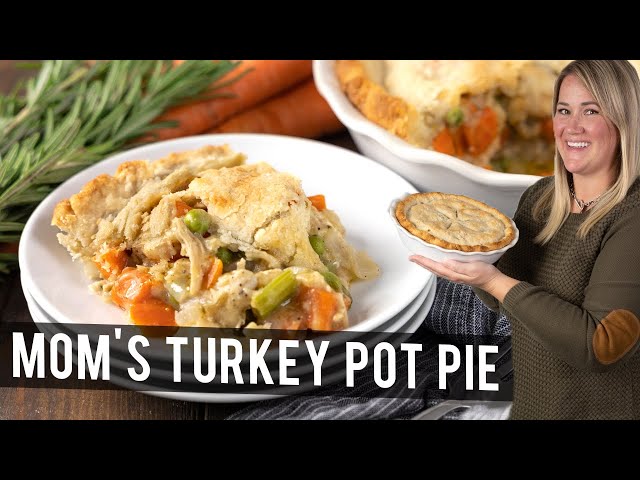 Wondering what to do with all of that leftover Thanksgiving turkey? Turkey pot pie is made with tender cooked vegetables in a homemade sauce and – of course – juicy turkey; it's hearty, filling, and warm. Perfect for those colder months.
Ingredients
• 2 prepared pie crusts top and bottom
• 3 carrots peeled and sliced
• 2 celery stalks sliced
• 2 cups chicken broth
• 1/2 teaspoon salt
• 1/2 teaspoon black pepper
• 1/2 teaspoon dried rosemary
• 1/2 teaspoon dried sage
• 2 cups turkey cooked and shredded or diced
• 1/2 cup frozen peas
• 2 tablespoons butter
• 1 small white onion diced
• 1/4 cup all-purpose flour
Instructions
Add carrots and celery to a medium saucepan. Pour in chicken broth and season with salt, pepper, rosemary, and sage. Bring to a boil over high heat. Reduce heat to medium and simmer for 8 minutes.
Meanwhile, in another saucepan melt butter over medium heat. Sauté onion in the melted butter until softened, about 5 minutes. Add flour and stir until well combined and becomes more golden.
Ladle out 1/2 - 1 cup of chicken broth and add it to the cooked onion/flour mixture. Whisk together and then add the thickened onion and flour mixture into the vegetables. Let cook over low heat for 3 - 5 more minutes.
Add in cooked turkey and peas.
Preheat oven to 425 degrees Fahrenheit. Line a deep dish pie plate with the prepared bottom crust, letting it hang over the edge by 1/2-inch.
Pour pot pie filling onto the bottom crust. Cover with top crust and seal the edges. Using a sharp knife, slice several small slits in the top crust to allow steam to escape while baking.
Bake pie in the 425 degree oven for 30-35 minutes, until the top crust is golden brown. Allow to cool for 10 minutes before serving.
Complete recipe:
Other category recipes - Baking