Palak Patta Chaat
More recipes from channel - Your Food Lab
How to cook Palak Patta Chaat: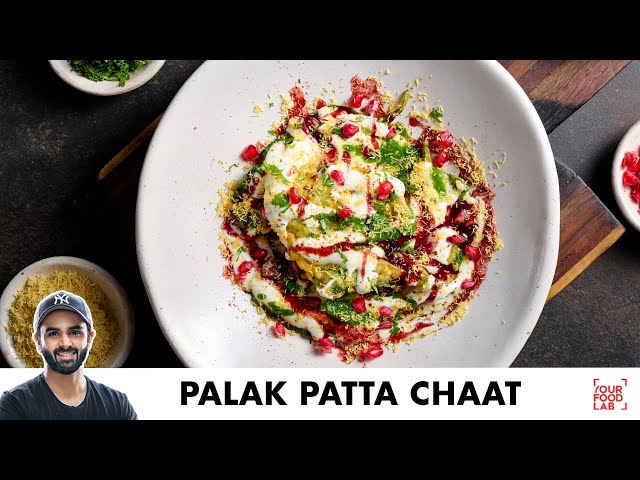 Kokum Chutney

Ingredients:
KOKUM 50 GRAMS
HOT WATER AS REQUIRED
JAGGERY 400 GRAMS
KASHMIRI RED CHILLI POWDER 1 TBSP
ROASTED CUMIN POWDER 2 TSP
BLACK SALT 1 TSP
SALT TO TASTE
BLACK PEPPER POWDER A PINCH
GINGER POWDER 1/4 TSP
WATER 400 ML
Method:
Add the kokum into a bowl & pour hot water over it just to cover the kokum, let the kokum soak for 1-1.5 hours.
Once soaked transfer the kokum into mixer grinder jar & grind it into a fine paste.
Transfer the paste into a deep pan or a stock pot & add jaggery along with all the remaining ingredients of the kokum chutney.
Then switch on the flame to high & cook until all the jaggery melts.
Once the jaggery melts lower the flame to medium low & cook the chutney until it reduces & thickens up a bit, this process will take 25-30 minutes.
To check if the chutney is ready, dip a spoon into the chutney, the chutney should coat the backside of the spoon.
Switch off the flame & cool down the chutney completely, then transfer it into an airtight jar or a container.
Your kokum chutney is ready, you can store it in the fridge & use it for upto a month.
Green chutney
MINT 1/2 CUP
FRESH CORIANDER 1 CUP
GREEN CHILLI 4-5 NOS.
GINGER 1 INCH
BLACK SALT 1/2 TSP
CUMIN POWDER 1 TSP
DRY MANGO POWDER 1 TSP
SALT TO TASTE
ICE CUBE 1 NO.
WATER AS REQUIRED
Method:
Add all the ingredients of the green chutney into a mixer grinder jar & grind it into a fine chutney.
Your green chutney for chaat is ready.
Curd
Ingredients:
CURD 2 CUPS
POWDERED SUGAR 1/4 CUP
BLACK SALT 1/2 TSP
Method:
Place a large sieve over a bowl & add the curd, powdered sugar & black salt in it, sieve all the ingredients together using a spoon or a spatula.
Once sieved, whisk the curd using a whisk for a few seconds.
Your seasoned curd is ready.
Palak Patta
Method:
GRAM FLOUR 1.5 CUPS
CORN FLOUR 1/2 CUP
CAROM SEEDS 1/2 TSP (CRUSHED)
SALT TO TASTE
BAKING SODA 2 PINCHES
WATER AS REQUIRED
SPINACH AS REQUIRED
Method:
In a large bowl add gram flour, corn flour, carom seeds, salt, baking soda & water, whisk well to make a batter of flowing consistency.
Wash the spinach leaves well & pat dry them using a tissue paper or a cloth.
Heat oil until it becomes moderately hot (170C).
Dip the spinach leaves into the batter & then carefully drop them into the hot oil, fry them spinach over high flame until crisp & light golden brown.
Once fried transfer the fried spinach onto a sieve so that all the excess oil drips off.
Your crispy palak for palak patta chaat is ready.
Assembly:
PALAK PATTA
CURD
DABI BHALLA MASALA
GREEN CHUTNEY
KOKUM CHUTNEY
NYLON SEV
FRESH CORIANDER
POMEGRANATE
Other category recipes - Recipes
Add recipe