Appetizer ideas for Christmas
More recipes from channel - Cookist Wow
How to cook Appetizer ideas for Christmas: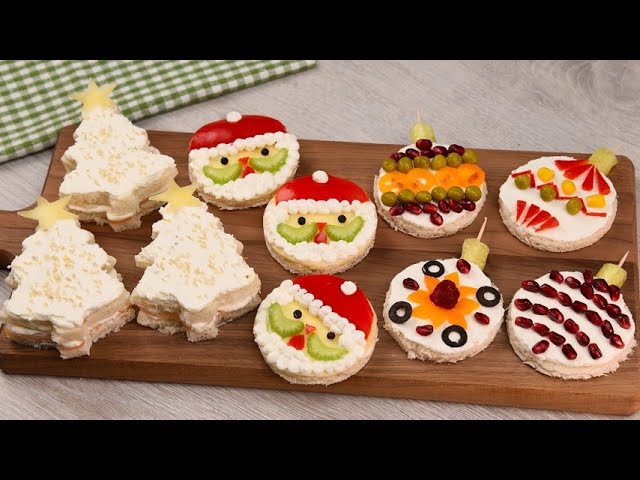 1) Christmas tree with tramezzino and salmon
INGREDIENTS
2 slices of sandwich bread
100g smoked salmon
100g cream cheese
30g (2 tbsp) yogurt
Garlic powder
Salt and pepper to taste
Sesame seeds
METHOD
Cut bread and salmon with a mold.
Whip the whipped cream and yogurt. Add salt, pepper, and garlic powder. Mix.
Coat bread with cream put salmon.
Cover with bread and cream. Sprinkle with sesame seeds.
2) Santa Clauses on tramezzino
INGREDIENTS
Sandwich bread
Red pepper
Celery
Cream cheese with yogurt
Yellow cheese
METHOD
Coat the toast with the bread.
Arrange red pepper, celery.
Make a little Santa Claus.
3) Christmas balls on tramezzino
INGREDIENTS
Tramezzino toasts
Red bell pepper
Yellow tomatoes
Pomegranate
Canned peas
Canned corn
Black olives, sliced into rings
METHOD
Arrange fruits and vegetables as shown in the video or according to your own idea.
Other category recipes - Appetizers
Add recipe