Amazing Rainbow Cookies
Rainbow cookies, also known as rainbow cake cookies or Italian flag cookies, are a colorful and delicious treat that features layers of almond-flavored sponge cake sandwiched together with fruit preserves and coated with chocolate
*Recipe on video and text may differ from each other!
How to cook Amazing Rainbow Cookies: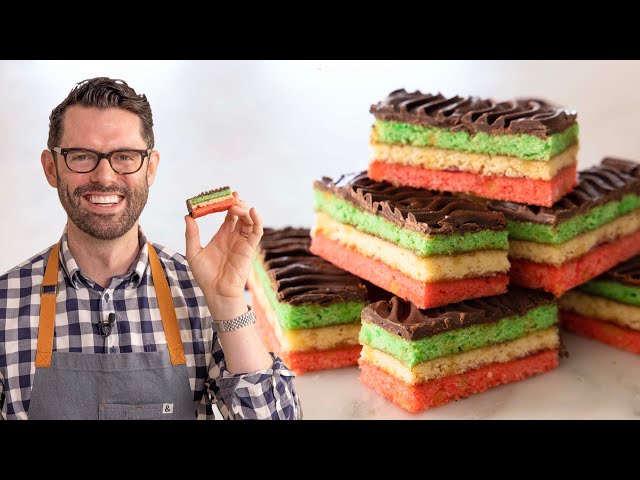 Rainbow cookies, also known as rainbow cake cookies or Italian flag cookies, are a colorful and delicious treat that features layers of almond-flavored sponge cake sandwiched together with fruit preserves and coated with chocolate. Here's a recipe to help you make these delightful rainbow cookies:
Ingredients:
For the cake layers:
1 cup unsalted butter, softened
1 cup granulated sugar
4 large eggs
1 teaspoon almond extract
2 cups all-purpose flour
1/4 teaspoon salt
Red, green, and yellow food coloring
For the filling:
1 cup raspberry preserves
1 cup apricot preserves
For the chocolate coating:
8 ounces semisweet or bittersweet chocolate, chopped
1 tablespoon vegetable shortening
Instructions:
Preheat your oven to 350°F (175°C). Grease and line three 9x13-inch baking pans with parchment paper.
In a large mixing bowl, cream together the softened butter and granulated sugar until light and fluffy. Add the eggs one at a time, beating well after each addition. Stir in the almond extract.
In a separate bowl, whisk together the flour and salt. Gradually add the dry ingredients to the butter mixture, mixing until just combined.
Divide the batter evenly into three bowls. Add a few drops of red food coloring to one bowl, green food coloring to another, and yellow food coloring to the third bowl. Stir each bowl until the color is well incorporated.
Spread the colored batters separately onto the prepared baking pans, smoothing them out with a spatula. Each layer should be about 1/4 inch thick.
Bake the layers in the preheated oven for about 8-10 minutes or until the edges are lightly golden. Be careful not to overbake.
Remove the layers from the oven and let them cool completely in the pans.
Once the layers have cooled, place the red layer onto a flat surface. Spread a thin layer of raspberry preserves over the red layer. Top with the green layer and spread a thin layer of apricot preserves over it. Finally, place the yellow layer on top.
Gently press the layers together and trim the edges to create neat edges. You can wrap the layers tightly in plastic wrap and refrigerate for a few hours or overnight to help them set.
In a double boiler or a microwave-safe bowl, melt the chopped chocolate and vegetable shortening together, stirring until smooth.
Remove the layered cake from the refrigerator and cut it into small rectangular cookies.
Dip each cookie into the melted chocolate, ensuring it is fully coated. Place the coated cookies onto a wire rack or parchment-lined baking sheet to let the chocolate set.
Once the chocolate has hardened, you can store the rainbow cookies in an airtight container at room temperature.
Rainbow cookies are a colorful and delicious treat that is sure to brighten up any dessert table. Enjoy these delightful cookies with their almond-scented sponge cake layers, fruity filling, and chocolate coating.
Other category recipes - Baking