Clams Casino
Clams Casino
Subscribe to our Telegram channel
@nifty_recipe
. Here you will find all the latest photo and video recipes!
*Recipe on video and text may differ from each other!
How to cook Clams Casino: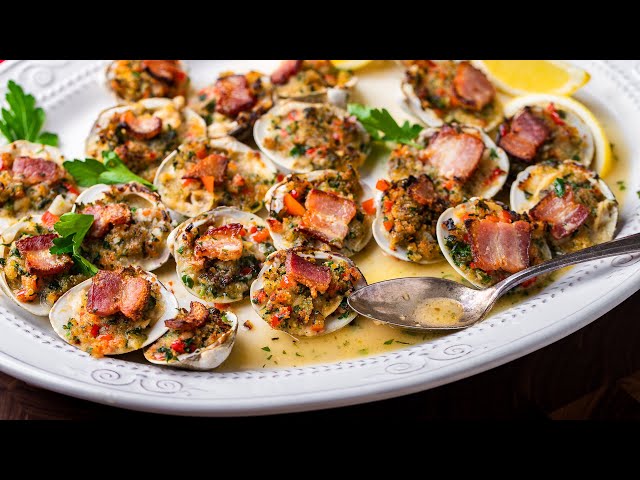 Today we're making baked clams casino. With bell pepper, garlicky breadcrumbs, and bacon these are great for snacking on Christmas Eve or really before any meal. I hope you enjoy this clams casino recipe!
Ingredients

2 dozen (24) Littleneck clams - rinsed and purged if necessary
¼ cup (50 grams) dry white wine
5 tablespoons (75 grams) butter cut into small cubes and divided
1/4 cup (56 grams) clam juice or low sodium chicken stock
1 large lemon cut into wedges, for serving
3 strips bacon cut into small pieces - you will need 24 pieces for 2 dozen clams
For the seasoned breadcrumbs
½ cup (75 grams) dry breadcrumbs
½ teaspoon dried oregano
¼ teaspoon crushed red pepper flakes
3 tablespoons parsley - minced
3 cloves garlic - minced
½ medium red bell pepper - ½ cup worth, finely chopped
¼ cup (56 grams) clam juice or low sodium chicken stock
Other category recipes - Appetizers