Lemon Crinkle Cookies
​Lemon crinkle cookies are delightful, tangy treats with a soft and chewy texture.
*Recipe on video and text may differ from each other!
How to cook Lemon Crinkle Cookies: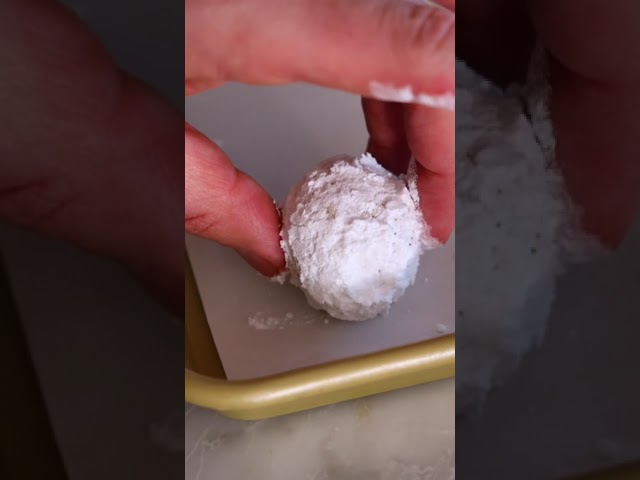 Lemon crinkle cookies are delightful, tangy treats with a soft and chewy texture. They are perfect for lemon lovers and make a refreshing addition to any dessert spread. Here's a recipe to guide you in making delicious lemon crinkle cookies:
Ingredients:
1 ¾ cups all-purpose flour
1 ½ teaspoons baking powder
½ teaspoon salt
1 cup granulated sugar
2 tablespoons lemon zest (from about 2 lemons)
½ cup unsalted butter, softened
2 large eggs
1 teaspoon vanilla extract
½ teaspoon lemon extract (optional)
½ cup powdered sugar, for rolling the cookies
Instructions:
Preheat your oven to 350°F (175°C). Line a baking sheet with parchment paper.
In a medium bowl, whisk together the flour, baking powder, and salt. Set aside.
In a large mixing bowl, combine the granulated sugar and lemon zest. Use your fingers to rub the zest into the sugar, releasing the lemon oils and infusing the sugar with flavor.
Add the softened butter to the sugar mixture and cream them together using an electric mixer until light and fluffy.
Beat in the eggs, one at a time, followed by the vanilla extract and lemon extract (if using), until well combined.
Gradually add the flour mixture to the wet ingredients, mixing on low speed until just combined. Be careful not to overmix.
Chill the dough in the refrigerator for at least 30 minutes. This will help the dough firm up and make it easier to handle.
Place the powdered sugar in a shallow bowl or plate. Scoop about a tablespoon of dough and roll it into a ball between your palms. Roll the dough ball in the powdered sugar until it is well coated. Repeat with the remaining dough, spacing the cookies about 2 inches apart on the prepared baking sheet.
Bake the cookies in the preheated oven for 10 to 12 minutes, or until the edges are set and the tops are cracked. The cookies will still be soft in the center.
Remove the baking sheet from the oven and let the cookies cool on the sheet for a few minutes before transferring them to a wire rack to cool completely.
Once cooled, the lemon crinkle cookies are ready to be enjoyed. They are best stored in an airtight container at room temperature.
These lemon crinkle cookies are bursting with citrus flavor and have a delightful texture. They make a wonderful treat for any occasion, from summer picnics to holiday gatherings. Enjoy the bright and refreshing taste of these delicious cookies!
Other category recipes - Desserts