Rice Pudding Brûlée – Bruno Albouze
Rice Pudding Brûlée – Bruno Albouze
*Recipe on video and text may differ from each other!
How to cook Rice Pudding Brûlée – Bruno Albouze: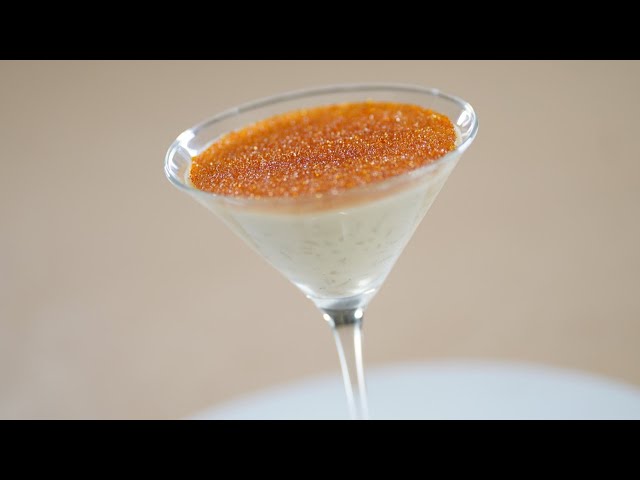 This version of rice pudding is the best ever. The round rice is cooked first in milk, vanilla and sugar. Then folded into custard creme anglaise. The dessert is then finished with caramel tuile
Here is a recipe for Rice Pudding Brûlée that you can try:
Ingredients:
1 cup Arborio rice
2 cups whole milk
1/2 cup heavy cream
1/2 cup granulated sugar, divided
1/2 teaspoon salt
1 cinnamon stick
1 teaspoon vanilla extract
4 egg yolks
2 tablespoons brown sugar
Fresh berries or mint leaves for garnish
Instructions:
In a medium saucepan, combine the Arborio rice, milk, heavy cream, 1/4 cup granulated sugar, salt, and cinnamon stick. Bring to a boil over medium heat, stirring occasionally.
Reduce the heat to low and simmer the mixture, stirring occasionally, for about 25-30 minutes, until the rice is tender and most of the liquid has been absorbed.
Remove the cinnamon stick from the rice pudding and stir in the vanilla extract.
In a small bowl, whisk together the egg yolks and remaining 1/4 cup granulated sugar until pale yellow.
Gradually whisk in about 1/2 cup of the hot rice pudding mixture into the egg yolk mixture to temper the eggs. Then slowly whisk the egg mixture back into the rice pudding.
Preheat the broiler in your oven.
Spoon the rice pudding into individual ramekins or a baking dish. Sprinkle the brown sugar evenly over the top of the rice pudding.
Place the ramekins or baking dish under the broiler and cook for 2-3 minutes, until the sugar is melted and golden brown.
Remove from the oven and let cool for a few minutes before serving.
Garnish with fresh berries or mint leaves, if desired.
Enjoy your delicious Rice Pudding Brûlée!
More recipes from channel - Bruno Albouze
Other category recipes - Desserts