100% Authentic Khanavali Style Badanekayi Palya - Brinjal Fry Curry
North Karnataka Eggplant Curry
*Recipe on video and text may differ from each other!
How to cook 100% Authentic Khanavali Style Badanekayi Palya - Brinjal Fry Curry: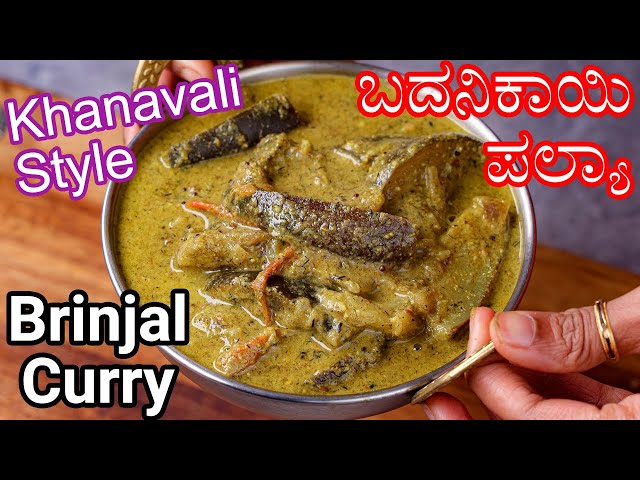 Brinjal fry curry is a delicious Indian dish made with fried eggplant (brinjal) and a flavorful curry sauce. Here's a recipe for making brinjal fry curry:
Ingredients:
2 large brinjals (eggplants), sliced into rounds
1 onion, chopped
3-4 garlic cloves, minced
1/2 inch ginger, grated
2 tomatoes, chopped
1/2 tsp cumin seeds
1/2 tsp turmeric powder
1 tsp coriander powder
1/2 tsp red chili powder (adjust to taste)
1/4 tsp garam masala
Salt, to taste
Oil, for frying
Instructions:
Sprinkle salt over the sliced brinjals and set aside for 10-15 minutes. This helps to remove excess moisture from the brinjals.
Heat oil in a frying pan and fry the brinjal slices until golden brown. Drain on paper towels and set aside.
In a separate pan, heat 2-3 tablespoons of oil and add cumin seeds.
Once the cumin seeds start to splutter, add chopped onion and sauté until translucent.
Add minced garlic and grated ginger and sauté for another minute.
Add chopped tomatoes, turmeric powder, coriander powder, red chili powder, and salt. Mix well and cook until the tomatoes become soft and mushy.
Add the fried brinjal slices to the tomato mixture and mix well. Cook for 2-3 minutes.
Add garam masala and mix well.
Serve hot with steamed rice or roti.
Note: You can adjust the spice level according to your taste by increasing or decreasing the amount of red chili powder used. You can also add other vegetables, such as potatoes or bell peppers, to this curry for added flavor and nutrition.
More recipes from channel - Hebbars Kitchen
Other category recipes - Dinner recipes