Easy Corn Chowder
This creamy Corn Chowder is a delicious and cozy recipe that is always a crowd-pleaser.
*Recipe on video and text may differ from each other!
How to cook Easy Corn Chowder: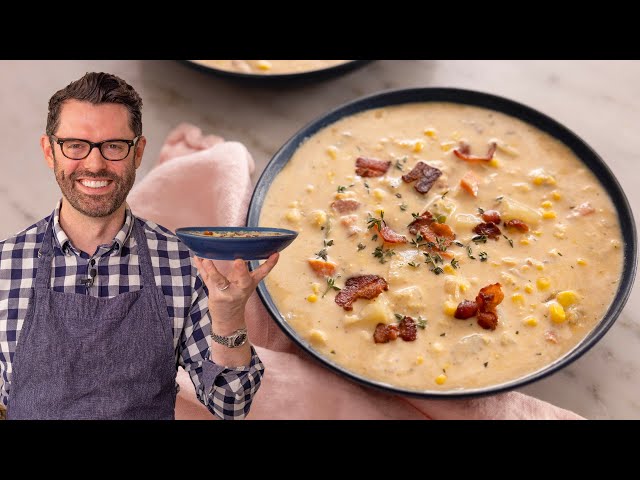 This creamy Corn Chowder is a delicious and cozy recipe that is always a crowd-pleaser. Full of sweet corn, crispy bacon, and potatoes, this chowder is a comforting recipe that is beyond flavorful and satisfying. It's such a simple but tasty one-pot meal, everyone will want seconds. Whether you're making this corn chowder when fresh corn is in abundance or in the winter with frozen corn, this chowder recipe is bound to make you reach for a second bowl. It's a warm, comforting, and hearty soup, making for the perfect recipe to enjoy year-round.
Here's a recipe for easy Corn Chowder:
Ingredients:
4 slices bacon, chopped
1 small onion, diced
2 garlic cloves, minced
2 medium potatoes, peeled and diced
2 cups corn kernels (fresh or frozen)
2 cups chicken or vegetable broth
1 cup milk
1/2 cup heavy cream (optional for added richness)
Salt and pepper to taste
Chopped fresh parsley or chives for garnish
Instructions:
In a large pot or Dutch oven, cook the chopped bacon over medium heat until crispy. Remove the cooked bacon from the pot and set aside, leaving the bacon fat in the pot.
Add the diced onion to the pot and sauté until it becomes translucent and slightly golden.
Add the minced garlic and cook for an additional minute until fragrant.
Add the diced potatoes and corn kernels to the pot. Stir well to combine with the onion and garlic.
Pour in the chicken or vegetable broth and bring the mixture to a boil.
Reduce the heat to low, cover the pot, and let it simmer for about 15-20 minutes, or until the potatoes are tender.
Using a blender or immersion blender, puree about half of the soup until smooth. This will help thicken the chowder while still leaving some chunky texture.
Return the pureed soup back to the pot and stir in the milk and heavy cream (if using). Simmer for an additional 5 minutes to heat through.
Season the chowder with salt and pepper to taste. Adjust the seasoning as needed.
Ladle the corn chowder into bowls and garnish with the crispy bacon and chopped parsley or chives.
Serve the easy Corn Chowder as a comforting and hearty meal. It's perfect for colder days or whenever you're in the mood for a creamy and satisfying soup. Enjoy the rich flavors of corn, bacon, and potatoes in this delicious chowder.
Other category recipes - Lunch recipes