Chocolate Carrot Cake
Chocolate Carrot Cake
Subscribe to our Telegram channel
@nifty_recipe
. Here you will find all the latest photo and video recipes!
*Recipe on video and text may differ from each other!
How to cook Chocolate Carrot Cake: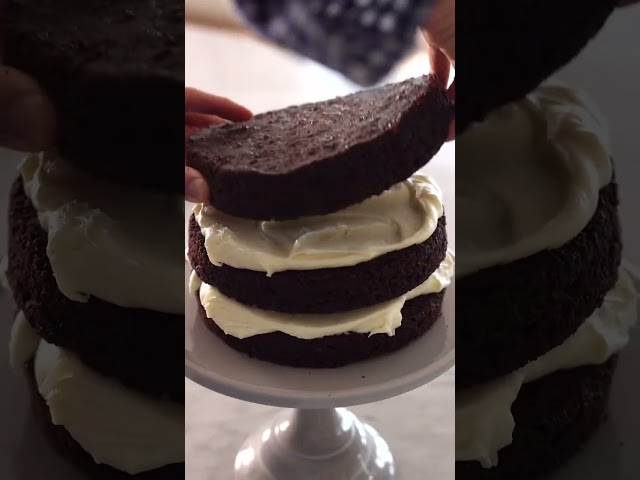 Chocolate carrot cake is a delicious variation of traditional carrot cake that incorporates chocolate flavor into the cake batter. It combines the moist and tender texture of carrot cake with the rich, indulgent taste of chocolate.
The basic recipe for chocolate carrot cake involves adding cocoa powder or melted chocolate to the carrot cake batter, resulting in a chocolate-infused cake with the added sweetness and moisture from the carrots. The cake is typically spiced with cinnamon and nutmeg, which complement the chocolate and carrot flavors.
To make chocolate carrot cake, you would typically start by mixing together dry ingredients such as flour, cocoa powder, baking powder, baking soda, and spices. In a separate bowl, you would whisk together wet ingredients including eggs, sugar, vegetable oil, and vanilla extract. The grated carrots are then added to the wet mixture, followed by combining the dry and wet ingredients until a smooth batter is formed.
The batter is poured into a greased and floured cake pan and baked in a preheated oven until a toothpick inserted into the center comes out clean. Once the cake has cooled, it can be frosted with cream cheese frosting, which pairs exceptionally well with the flavors of chocolate and carrot.
Chocolate carrot cake is a wonderful dessert option for chocolate lovers who also enjoy the delightful taste and texture of carrot cake. The combination of chocolate and carrots creates a unique and irresistible treat that is perfect for birthdays, special occasions, or simply as a delicious indulgence.
Ingredients:
For the cake:
2 cups all-purpose flour
1/2 cup unsweetened cocoa powder
2 teaspoons baking powder
1 teaspoon baking soda
1/2 teaspoon salt
1 teaspoon ground cinnamon
1/2 teaspoon ground nutmeg
1 cup granulated sugar
1 cup packed brown sugar
1 cup vegetable oil
4 large eggs
2 teaspoons vanilla extract
2 cups grated carrots
1 cup unsweetened applesauce
For the cream cheese frosting:
8 ounces cream cheese, softened
1/2 cup unsalted butter, softened
4 cups powdered sugar
1 teaspoon vanilla extract
Optional garnish:
Grated chocolate or chocolate shavings
Chopped walnuts or pecans
Instructions:
Preheat your oven to 350°F (175°C). Grease and flour a 9x13-inch cake pan or two 9-inch round cake pans.
In a medium-sized bowl, whisk together the flour, cocoa powder, baking powder, baking soda, salt, cinnamon, and nutmeg. Set aside.
In a large mixing bowl, beat together the granulated sugar, brown sugar, and vegetable oil until well combined. Add the eggs one at a time, beating well after each addition. Stir in the vanilla extract.
Gradually add the dry ingredient mixture to the wet ingredients, mixing until just combined. Fold in the grated carrots and applesauce until evenly distributed throughout the batter.
Pour the batter into the prepared cake pan(s) and smooth the top with a spatula.
Bake in the preheated oven for about 35-40 minutes for a 9x13-inch pan or 25-30 minutes for round pans, or until a toothpick inserted into the center comes out clean.
Remove the cake from the oven and let it cool in the pan(s) for about 10 minutes. Then transfer the cake to a wire rack to cool completely.
While the cake is cooling, prepare the cream cheese frosting. In a mixing bowl, beat the softened cream cheese and butter together until smooth and creamy. Gradually add the powdered sugar and vanilla extract, beating until the frosting is light and fluffy.
Once the cake has cooled, frost the top and sides with the cream cheese frosting. You can also add optional garnishes such as grated chocolate or chopped nuts on top.
Slice and serve the delicious chocolate carrot cake. Enjoy!
This recipe will yield a moist and flavorful chocolate carrot cake with a creamy cream cheese frosting. It's sure to be a hit with chocolate and carrot cake lovers alike!
Other category recipes - Desserts