Peaches Tart
Peach tart is a delicious dessert made with fresh peaches and a buttery crust.
Subscribe to our Telegram channel
@nifty_recipe
. Here you will find all the latest photo and video recipes!
*Recipe on video and text may differ from each other!
How to cook Peaches Tart: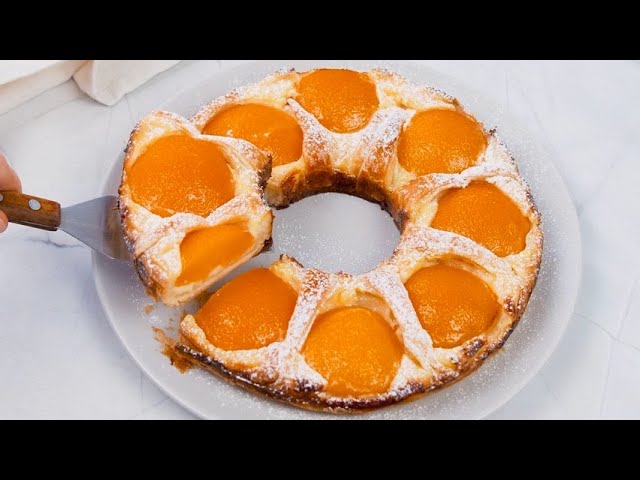 Peach tart is a delicious dessert made with fresh peaches and a buttery crust. Here's a basic recipe for a peach tart:
Ingredients:
1 1/2 cups all-purpose flour
1/4 cup granulated sugar
1/4 teaspoon salt
1/2 cup unsalted butter, cold and cut into small pieces
2-3 tablespoons ice water
4-5 ripe peaches, peeled, pitted, and sliced
1/4 cup granulated sugar (for sprinkling)
1 tablespoon lemon juice
1/2 teaspoon vanilla extract
1 tablespoon cornstarch
Optional: powdered sugar for dusting
Instructions:
Preheat your oven to 375°F (190°C).
In a mixing bowl, combine the flour, sugar, and salt. Add the cold butter pieces and use a pastry cutter or your fingers to cut the butter into the flour mixture until it resembles coarse crumbs.
Gradually add the ice water, one tablespoon at a time, and mix until the dough comes together. Be careful not to overmix. Form the dough into a ball, flatten it slightly, wrap it in plastic wrap, and refrigerate for about 30 minutes.
In a separate bowl, combine the sliced peaches, granulated sugar, lemon juice, vanilla extract, and cornstarch. Toss gently to coat the peaches evenly.
On a lightly floured surface, roll out the chilled dough into a circle large enough to fit your tart pan. Carefully transfer the dough to the tart pan and press it gently into the bottom and sides. Trim any excess dough.
Arrange the peach slices on top of the dough in an even layer, leaving a small border around the edges.
Fold the edges of the dough over the peaches, creating a rustic, free-form tart shape.
Sprinkle the remaining sugar over the peaches.
Bake the tart in the preheated oven for about 30-35 minutes, or until the crust is golden brown and the peaches are tender.
Remove the tart from the oven and let it cool for a few minutes before serving. Optionally, dust the tart with powdered sugar for a decorative touch.
Serve the peach tart warm or at room temperature, either on its own or with a dollop of whipped cream or a scoop of vanilla ice cream. Enjoy!
More recipes from channel - Cookist Wow
Other category recipes - Desserts