Pineapple Fried Rice
How to cook Pineapple Fried Rice: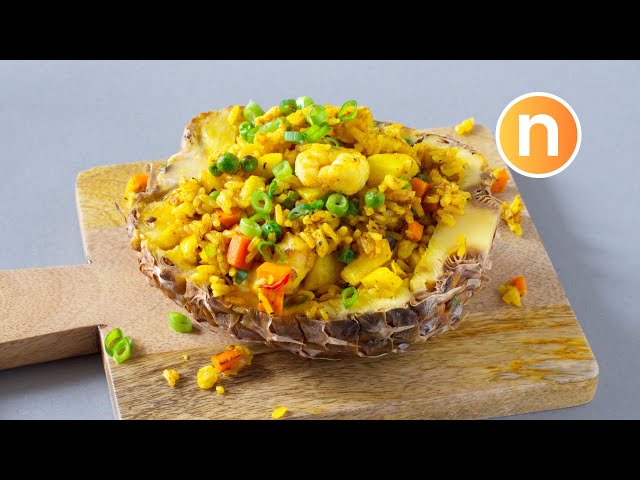 This pineapple fried rice with the authentic taste of Thai has a perfect balance of sweet and savoury flavours. It is mildly spiced, tasty and healthy with chunks of juicy pineapples.

Pineapple fried rice must have some thick pieces of pineapples and that bolt of Thai flavour. Therefore, fish sauce, turmeric powder and curry powder are tossed with rice over high heat to coat each grain with the seasoning. This is the secret to a mouth-watering plate of fried rice which is so popular in Thailand and even Malaysia. It's a favourite among kids and adults alike. So, it is not a surprise to find pineapple fried rice sold at a street food stall as well as being offered in the menu of a five-star hotel.
The cooking technique for pineapple fried rice does not differ much when compared to preparing other types of fried rice. It's all about the right portion of ingredients, heat and a few basic rules. Of course, it can be prepared easily on a weekday even without using overnight rice. If you are using the whole pineapple, don't throw away the skin but instead turn it into a pineapple bowl.
Add recipe