Home-made Kokum Sharbat & Solkadhi
How to cook Home-made Kokum Sharbat & Solkadhi: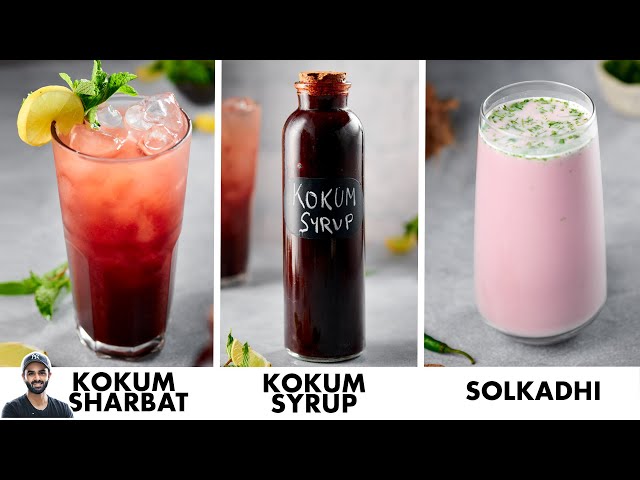 Full Written recipe for Kokum Syrup / Sherbat & Solkadhi
Prep time: 2 hours 15 minutes (including soaking time)
Cooking time: 10-12 minutes
Serves: 400ml
Ingredients:
• KOKUM 1 CUP / 100 GRAMS
• HOT WATER 2 CUP
• SUGAR 1 CUP / 250 GRAMS
• WATER 1 CUP
• GINGER 1 INCH (SLICED)
• CUMIN POWDER 1 TSP
• BLACK SALT 1 TSP
• SALT TO TASTE
• BLACK PEPPER POWDER 1/4 TSP
• LEMON JUICE 1 TSP
Method:
• In a bowl add the kokum & then pour the hot water over it, now let it soak for at least 2 hours.
• After its soaked, add the kokum into a mixer grinder jar along with the water & blend it into a fine paste, your kokum paste is ready.
• Now to make the kokum syrup add the sugar & water into a pan & cook it until the sugar dissolves.
• Once the sugar dissolves, add the kokum paste along with ginger, cumin powder, black salt, salt & black pepper powder, stir well & cook over low flame for 8-10 minutes until the syrup thickens, stir at regular intervals while cooking.
• Once thickened add the lemon juice & stir it well.
• Further strain the syrup using a sieve into a bowl & cool it down completely, once cooled down you can store it in an airtight container or a bottle & keep it in the fridge & use it for upto 2-3 months.
• Your kokum syrup is ready.
Kokum mojito:
• LEMON JUICE (ADD THE LEMON)
• MINT
• MUDDLE
• KOKUM SYRUP 60 ML
• ICE CUBES AS REQUIRED
• SODA 200 ML
• STIR WELL
• SODA
Kokum sherbat:
• ICE CUBES
• KOKUM SYRUP
• WATER
• STIR
Solkadhi
Prep time: 2 hours 15 minutes (including soaking time)
Cooking time: 8-10 minutes
Serves: 1 litre

Ingredients:
• KOKUM 1 CUP (SOAKED IN 2 CUPS OF HOT WATER FOR 2 HOURS)
• FRESH COCONUT 1 NOS.
• GREEN CHILLI 1 NOS.
• GINGER 1/2 INCH
• GARLIC 3-4 CLOVES
• CUMIN SEEDS 1/4 TSP
• CAROM SEEDS 1/4 TSP
• BEETROOT 1 SMALL PIECE. (FOR COLOUR)
• WATER 2 CUP / 500ML
• KOKUM WATER 2 CUPS
• FRESH CORIANDER SMAL HANDFUL (CHOPPED)
Method:
• Strain the soaked kokum using a sieve & reserve the water to use it later, make sure you squeeze out all the water from the soaked kokum.
• Now in a mixer grinder jar add the fresh coconut, green chilli, ginger, garlic, cumin seeds, carom seeds, beetroot & water, grind it into a fine paste.
• To sieve the coconut milk, place a muslin cloth over a large bowl after folding it twice, then pour the coconut milk over the cloth & squeeze all the liquid out of it into the bowl.
• Your spiced coconut milk is ready, you can re-use the coconut mixture that is left on the muslin cloth to make more spiced coconut milk, but the flavour wouldn't be as strong.
• Add the kokum water that you had reserved earlier to the spiced coconut milk along with fresh coriander & mix well.
• Your solkadhi is ready, garnish with some fresh coriander & serve chilled.
More recipes from channel - Your Food Lab
Other category recipes - Drinks
Add recipe