Strawberry millefeuille
How to cook Strawberry millefeuille: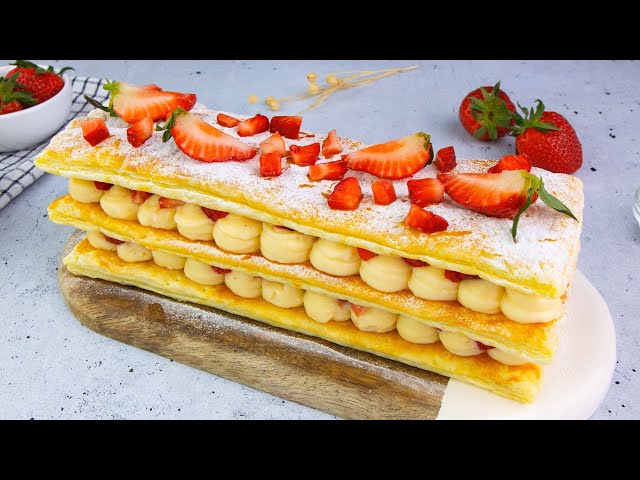 INGREDIENTS
For the cream:
600ml (2 1/2 cups) of milk
Vanilla extract
3 egg yolks
110g (1/2 cup) of sugar
30g (1/4 cup) of all-purpose flour
30g (1/4 cup) of corn starch
1 roll of puff pastry
1 egg
Powdered sugar
300g of strawberries
METHOD
In a saucepan pour the milk and also add the vanilla extract. Heat the milk over very low heat and remove it from the heat.
In a bowl, mix the egg yolks with the sugar, flour, and corn starch. Slowly pour the part of the hot milk into the yolk mixture.
Pour everything back into the saucepan. Put the cream back on the heat and stir the custard continuously until it is thick.
Cut the puff pastry into the three parts and prick them with the fork. Cover all three parts with egg wash and sprinkle with powdered sugar. Bake in the oven at 200°C/392°F for 20 minutes.
Add the cream into the whipping cream bag and arrange it on the first part of the pastry. Add on top the strawberries in pieces to cover the creme.
Cover with the second part of the pastry and repeat the process with cream and strawberries. Finally cover with the third part and sprinkle with powdered sugar.ryday fresh, fun and easy recipes. You can find the best quick and easy to make recipes, simple meal planning ideas and cooking techniques.
More recipes from channel - Cookist Wow
Other category recipes - Desserts
Add recipe