Rumali Roti
How to cook Rumali Roti: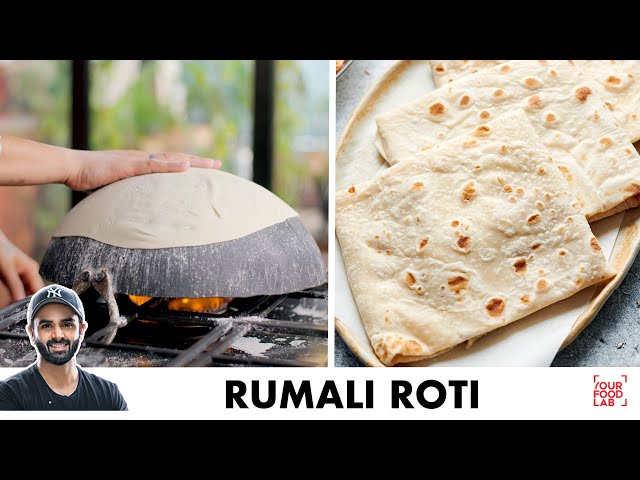 Full Written recipe for Rumali roti
Prep time: 1 hour & 15-20 minutes (includes resting time)
Cooking time: 1-2 minutes (for one roti)
Serves: 5-6 roti (depending on the roti size)
Ingredients:
Refined flour 1.5 cups
Wheat flour ½ cup
Sugar 1 tsp
Salt a pinch
Oi 1 tbsp
Luke warm Milk 1 cup
Method:
In a mixing bowl, add all the ingredients, except milk and mix well, now add milk in batches and combine well, once it becomes like a dough, transfer over the table top and knead well for 10-12 minutes.
Initially you would feel the dough is very sticky, you can just sprinkle little flour and start the kneading process.
Now you have to knead the dough by holding it from one side and stretching the other end, the stretching of the dough while kneading is very important, doing so will help the formation of gluten and later while rolling the roti, it won't shrink or tear.
You have to knead until the dough has turned soft and smooth.
Now divide the dough into equal size dough balls, you can divide the dough balls depending on the size of the roti you want. Cover the dough balls with a damp cloth and rest it for at least 1 hour.
To cook the Rumali roti, take a kadhai and flip upside down, then place it on the flame facing the bottom of the kadhai up just like a dome. Heat the kadhai very well and make salt water by adding 2 tbsp salt in 200 ml of water, mix well and sprinkle over hot kadhai.
After the dough balls have been rested, take a dough ball & sprinkle some dry flour and flatten with hands, further use a rolling pin and roll into a very thin sheet, as thin as a handkerchief, sprinkle dry flour as and when required while rolling. You should be able to see your hands, it should be that thin.
Place the rolled roti over the smoking hot kadhai, don't forget to sprinkle salt water over the kadhai before cooking the roti. It'll take few minutes to cook on one side, use cloth and dab gently to cook the roti evenly, flip and cook on other side as well, until golden brown spots appear, fold the roti and keep aside.
Make all the roti in same way, your Rumali roti is ready, serve hot with any favourite dish of your choice.
More recipes from channel - Your Food Lab
Other category recipes - Breakfast
Add recipe