Broccoli & Cheese Casserole
More recipes from channel - Babish Culinary Universe
How to cook Broccoli & Cheese Casserole: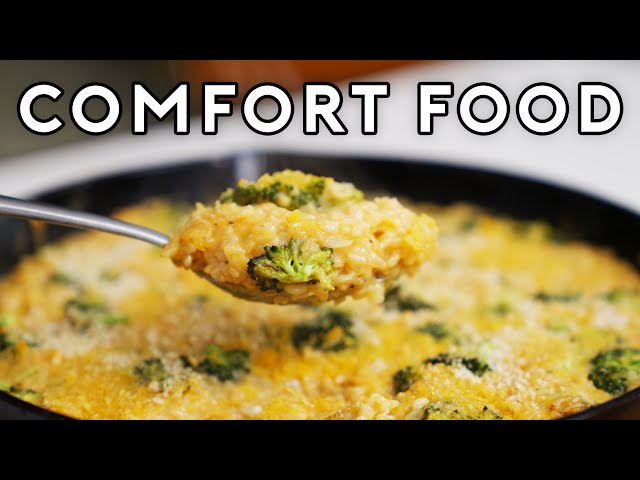 Ingredients:

1 yellow onion, chopped
4 cloves garlic, minced
1.5 cups broccoli florets
2 Tbsp olive oil
10oz plant-based chicken strips, chopped (optional)
2 cups brown rice
1 3/4 cups not-chicken stock
16 oz coconut milk
10 oz plant-based cheddar cheese
1/4 cup panko bread crumbs
Salt
Pepper
Method:
1. Add brown rice and not-chicken stock to an InstaPot or pressure cooker. Set pressure to high and cook for 20 minutes. Let pressure release naturally.
2. Sauté the onion and "chicken" strips in olive oil for 3-4 minutes in a cast iron (or other oven-safe) skillet. Add the garlic and cook for 1 more minute, or until fragrant.
3. Add the cooked brown rice, coconut milk, and cheese to the skillet, stir, and bring to a simmer.
4. Once the cheese has melted, add the broccoli florets and stir. Season to taste with salt and pepper.
5. Heat the oven to 450°F. Bake for 5 minutes. Remove pan from oven and cover the casserole with pank bread crumbs. Bake for an additional 5 minutes, or until the panko turns golden brown.
6. Serve and enjoy!
Other category recipes - Baking
Add recipe